If you're having trouble viewing this email, you can see it online.
Dear Friends,
(Our letter this month comes from our new Co-Director of Programs, Rev. Kelly Dignan!)
I'm so excited to join UU Ministry for Earth! Our vision is a world in which reverence, gratitude, and care for each other and for the living Earth are central to the lives of all people. That's the world I want to help create.
Rev. Daniel Lawlor will continue to lead development and communication while I lead programming. The staff and Board are amazing, and it's great to be part of the team. I'll be working 20 hours per week and look forward to interacting and co-creating with all of you over time.
I'm a Unitarian Universalist minister and identify as a white, cisgender, straight, currently fully-abled woman committed to dismantling systemic oppressions, such as racism, ableism, and heteronormative beliefs. I believe we can replace such barriers with ever-widening circles of solidarity and mutual respect.
I had a 22-year career in business and was an executive coach when the idea of seminary wouldn't leave my heart and soul. My Master of Divinity comes from Iliff School of Theology, and I am an adjunct instructor there teaching UU History. I've served as pastor of three congregations and know the power of UUMFE in congregational life. I offer spiritual coaching to individuals, and am on the Board of Directors of UU Wellspring, a program for spiritual deepening.
Born, raised and still living in Denver, Colorado, I honor the sacred land of the Arapaho, Cheyenne, Núu-agha-tʉvʉ-pʉ̱ (Ute) and Očhéthi Šakówiŋ (Sioux) people whose governments and cultures are still alive. I've been exploring my own indigenous roots and spirituality for the past five years, and in the process have deepened my relationship with Earth and all her inhabitants through practice and direct experience.
I'm married to Pete Dignan who teaches Climate Action for Business and the Certificate in Environmental, Social and Governance (ESG) Strategy at University of Colorado Leeds School of Business. He and I are Unitarian Universalists together and are grateful for this faith tradition. Between us, we have four grown children and a grandchild, all of whom live in Denver near us.
It's an honor to support the UUMFE mission to be a wellspring of spiritual and educational grounding and practical support for bold, accountable action for environmental justice, climate justice, and the flourishing of all life.
Love,
Rev. Kelly Dignan
Co-Director, Programs

CONCERT WITH ALY HALPERT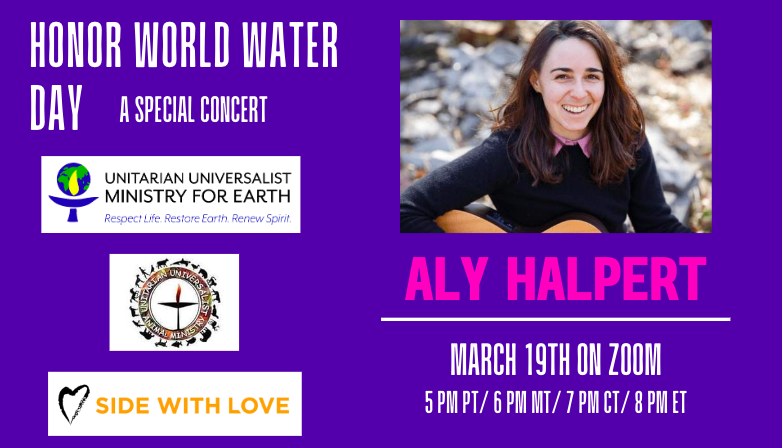 Sunday, March 19th
5 pm PT/ 6 pm MT/ 7 pm CT/ 8 pm ET

Celebrate World Water Week with a concert hosted by Unitarian Universalist Ministry for Earth and sponsored by UU Animal Ministry and Side With Love! Join us on Sunday, March 19th, at 5 pm PST/6 PM MST/7 pm CST/8 PM EST for a galvanizing concert with the inspiring musician and religious leader, Aly Halpert (she/her)! As we face ongoing climate challenges, let's be inspired by community and song to continue and to deepen.



EMBODIMENT
Monthly Spiritual Gatherings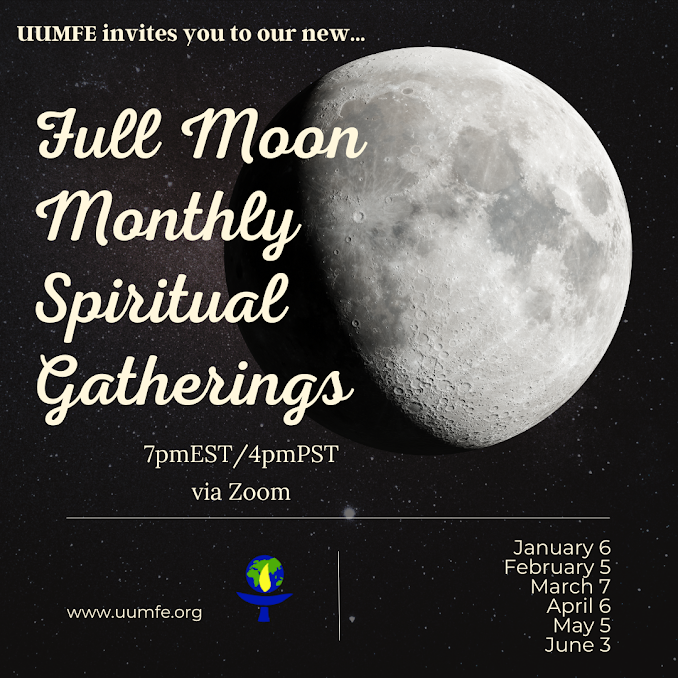 Meets on the Full Moon each month
4 pm PT/ 5 pm MT/ 6 pm CT/ 7pm ET
In 2023, UUMFE continues our Monthly Spiritual Gatherings so that we may all find time to ground, recenter, and imagine what is possible in a world in need of repair. This year to draw us more closely into alignment with Earth-based philosophies, we will follow the Lunar Calendar. We will gather each month, via Zoom, on the Full Moon to nourish our spirit. Our next gathering with be on April 6th. We hope you join us!
Monthly Musings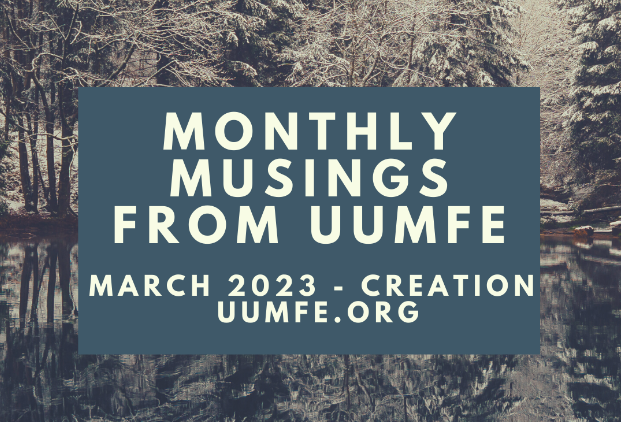 Don't miss the monthly collection of musings designed to help you and your congregations connect their spiritual practice to care for Earth and all her inhabitants. Each month, your congregation will get a copy of MONTHLY MUSINGS from UUMFE focused on a different theme and filled with materials to help with your EMBODIMENT, EMPOWERMENT, & ENGAGEMENT in the face of climate chaos and environmental injustice. We hope you use these resources for worship, contemplative practice, and religious exploration in your congregation. You can find past issues here.
Earth Day Service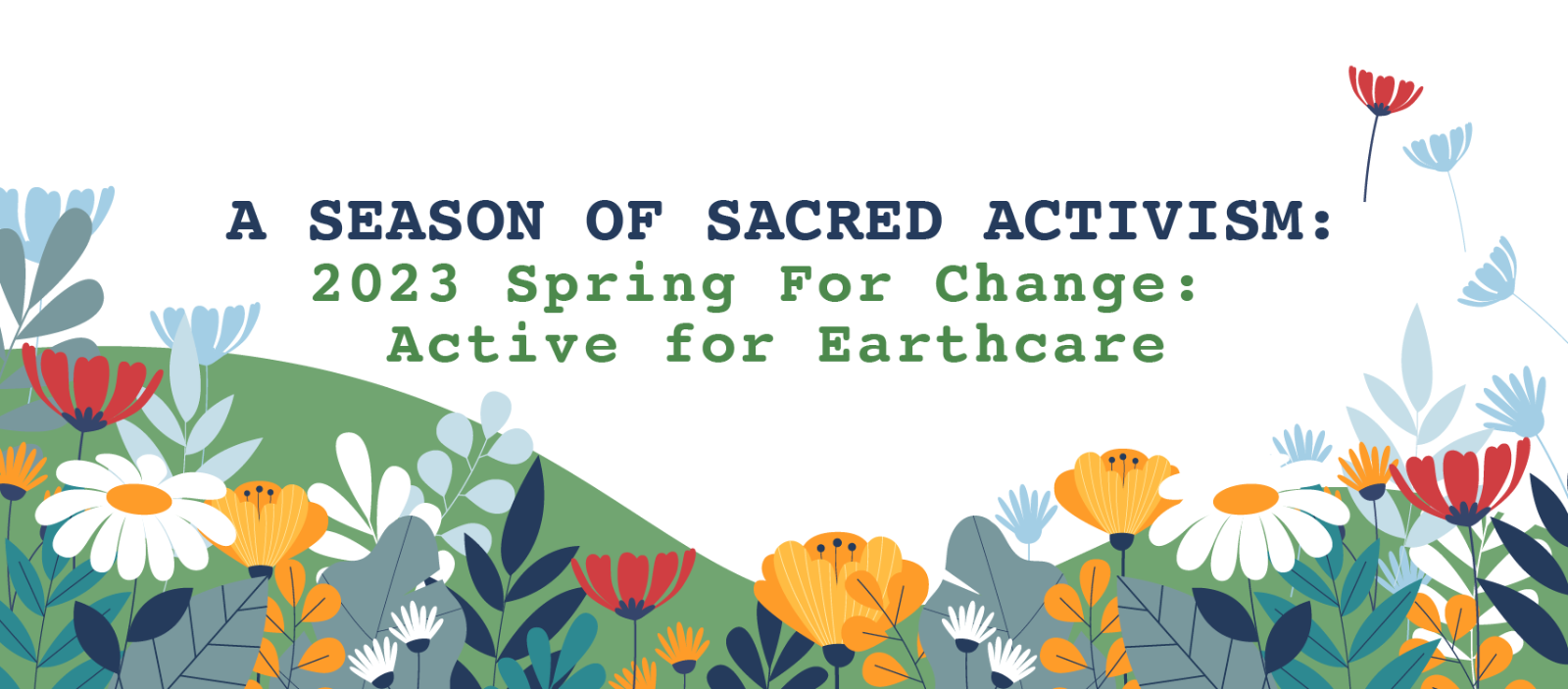 As part of Spring for Change: A Season of Sacred Activism this year, Unitarian Universalist Ministry for Earth is producing a virtual worship service for viewing online on Earth Day, or using in full or in part by participating congregations this Spring.
Our faith calls us into relationship with the sacred elements of Earth and to put power in the hands of the many and not the few. This Earth Day, join the Unitarian Universalist Ministry for Earth in meditation, song, and stories to honor nature's elements and become Active for Earthcare – a call to engage in the face of the climate crisis. This worship structure may be a bit different from what you are used to — lean into it and enjoy the journey!
Read our 2023 Earth Day Order of Service and contributor biographies here!
The 2023 Earth Day Service will include a special collection for the UU Ministry for Earth – donations are encouraged and received with deep gratitude.
Read on and register for upcoming opportunities to be galvanized during this season of sacred activism! Download this PDF of all 2023 Spring for Change Events to share with your congregation!

"Article II, Revisted" Sermon
Unitarian Universalist Ministry for Earth's congregational engagement intern, Lindsay Donnelly-Bullington, of Boston University School of Theology, recently offered a sermon at First Church Boston. Lindsay's reflection, titled "Article II, Revisited" is a poignant, powerful meditation on transformation in our faith and in this moment. Lindsay's prayer and sermon begin at approximately the 30-minute mark.
Minister Support Group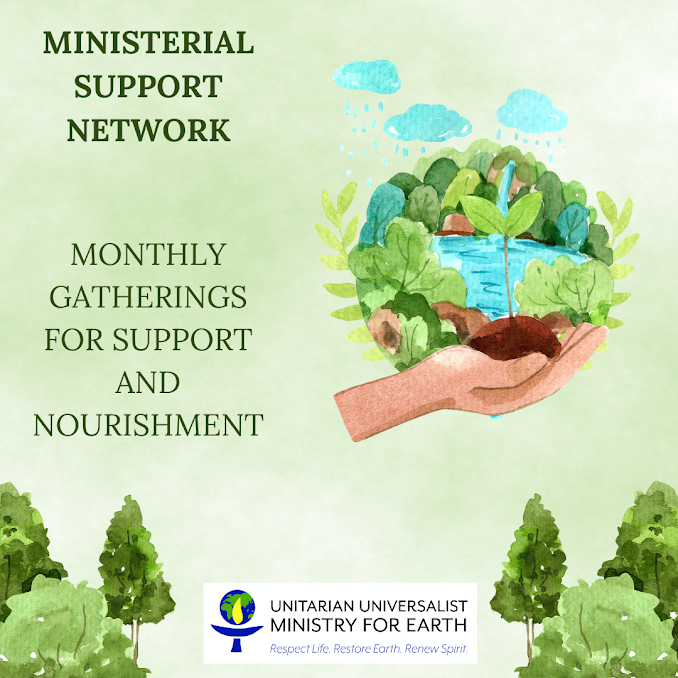 Meets Monthly
Dates and Times Shared Upon Registration
Join Rev. Leonisa, Rev. Kelly, and Rev. Daniel for a monthly gathering for fellowshipped UU ministers to support, guide, and learn from one another as we work to care for people and the planet. We will meet monthly January through June.

EMPOWERMENT
UUYACJ Movement Training Workshops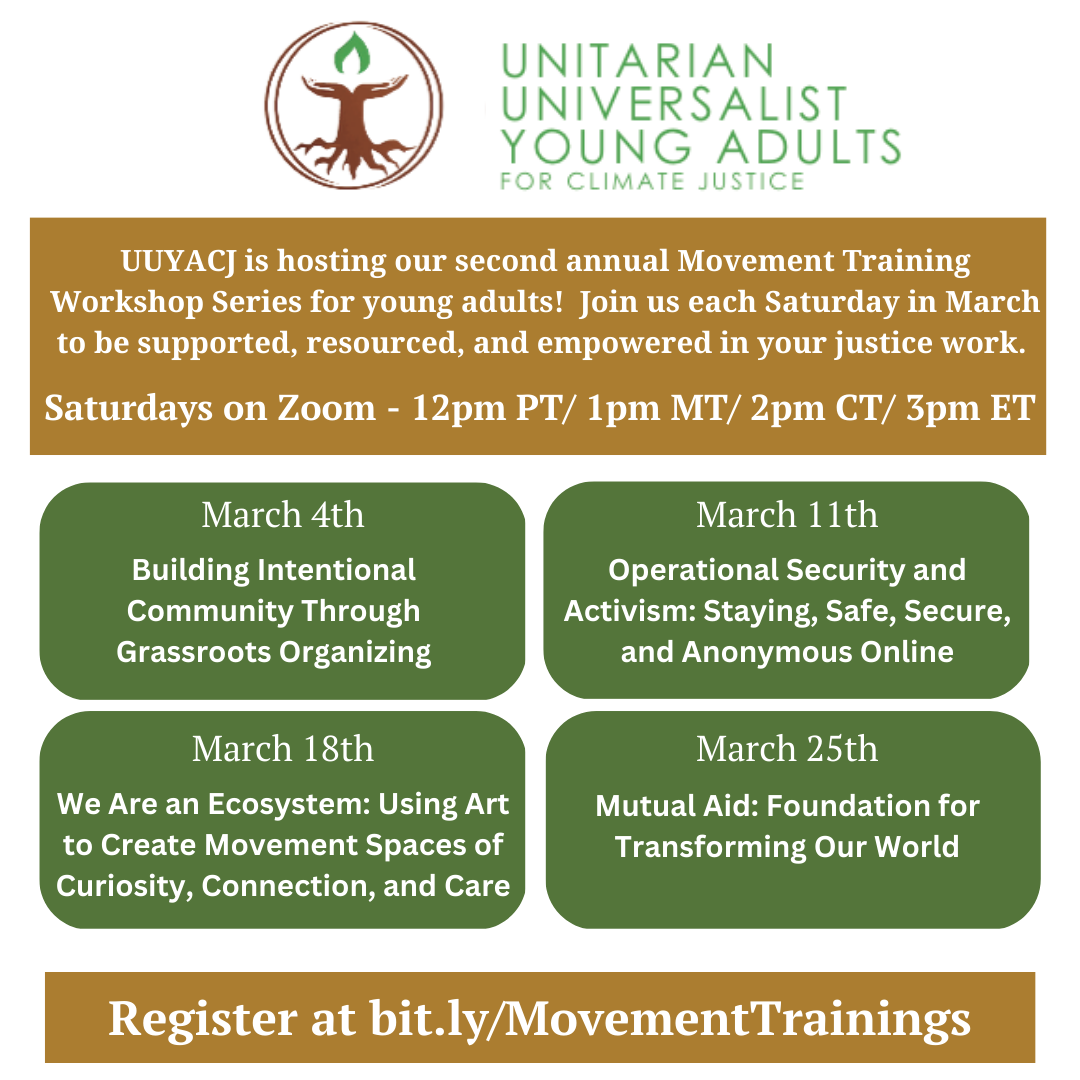 Saturdays in March (4th, 11th, 18th, and 25th)
12 pm PT/ 1 pm MT/ 2 pm CT/ 3 pm ET
UU Young Adults for Climate Justice (UUYACJ) is hosting its second annual movement training workshop series! This workshop series seeks to support, resource, and empower young adults by offering tangible organizing skills, collective knowledge, and sustainable care practices. Our workshops will include: an intro to grassroots organizing in community; comprehensive info on maintaining online security; a hands-on workshop on art in movement spaces; and an exploration of the transformative power of mutual aid.
These workshops will be happening every Saturday in March on Zoom. They'll start at 12pm PT/ 1pm MT/ 2pm CT/ 3pm ET, lasting for an hour and a half. Justice work asks so much of organizers and UUYACJ is grateful that we get to offer these free workshops as a gift in return.
Note that these workshops are only open to young adults (18-35). And while attendance is limited, we encourage our supporters to share this with all of the young adults in your life!
Connecting with State Action Networks on Climate Advocacy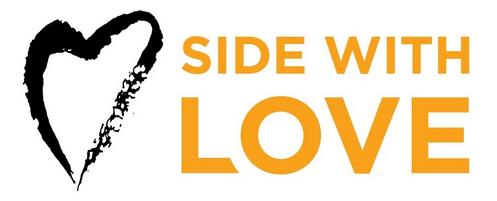 Wednesday, March 15th
5 pm PT/ 6 pm MT/ 7 pm CT/ 8 pm ET
UU State Action Networks do powerful justice work across the country. How can your congregation engage with your State Action Network on climate justice advocacy and actions? Join Deb Cruz and Rev. Lisa Sampson Garcia to learn more! --- Join the Green Sanctuary Team meetings for shared learning and mutual support with other UUs working on congregational transformation through climate justice on the third Wednesday of the month at 8PM ET. Each meeting includes a short presentation on a climate justice topic, followed by open discussion on pressing needs.
Faith Communities Exploring Fossil Fuel Divestment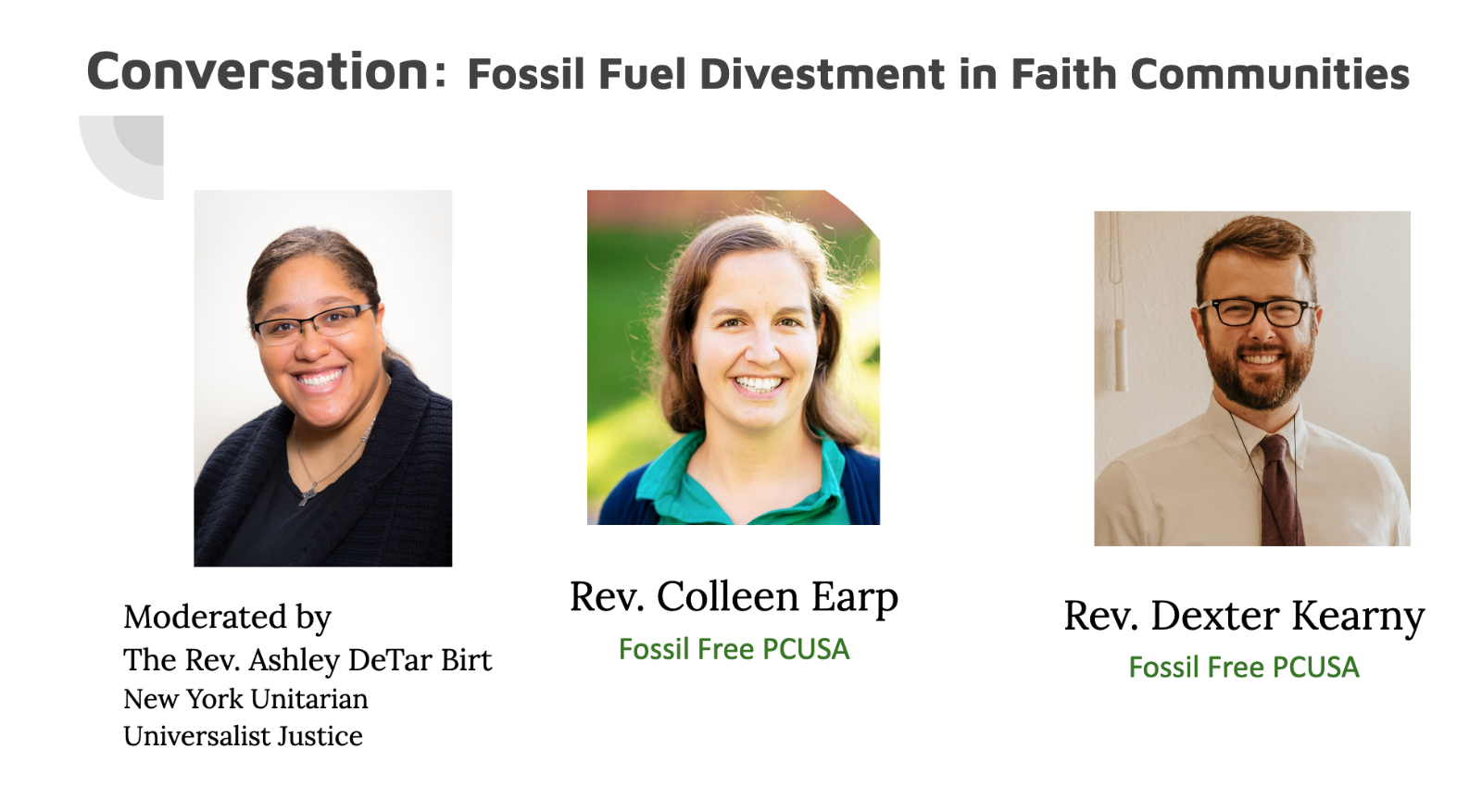 Collaboration is critical to developing the relationships, imagination and strategies needed to cultivate climate justice.
Sponsored by the New York State Convention of Universalists, Unitarian Universalist Ministry for Earth, New York UU Justice, Fourth Universalist Society, and All Souls New York have begun a fruitful partnership to host a series of forums relating to spirituality and climate crisis. Watch all of this year's past forums here. As Widening the Circle of Concern: The Report of the UUA Commission on Institutional Change invites, "We need to put greater emphasis on what it means to be bound to one another in an interdependent web."
As part of this series, our most recent panel was held on February 28th, "Fossil Fuel Divestment and Faith Communities."

Members of the The Presbyterian Church (USA) have been in a multi-year movement to explore approaches to promote fossil fuel divestment in their tradition. In 2022, The Presbyterian Church (USA) voted to divest from 5 fossil fuel companies after years of debate. What can Unitarian Universalists learn about the particular method, approaches and experiences of the Presbyterian Church (USA)?
Enjoy this thoughtful discussion moderated by The Rev. Ashley DeTar Birt with Rev. Colleen Earp and Rev. Kearny of Fossil Free Presbyterian Church (USA).

ENGAGEMENT
2023 Write Here, Write Now!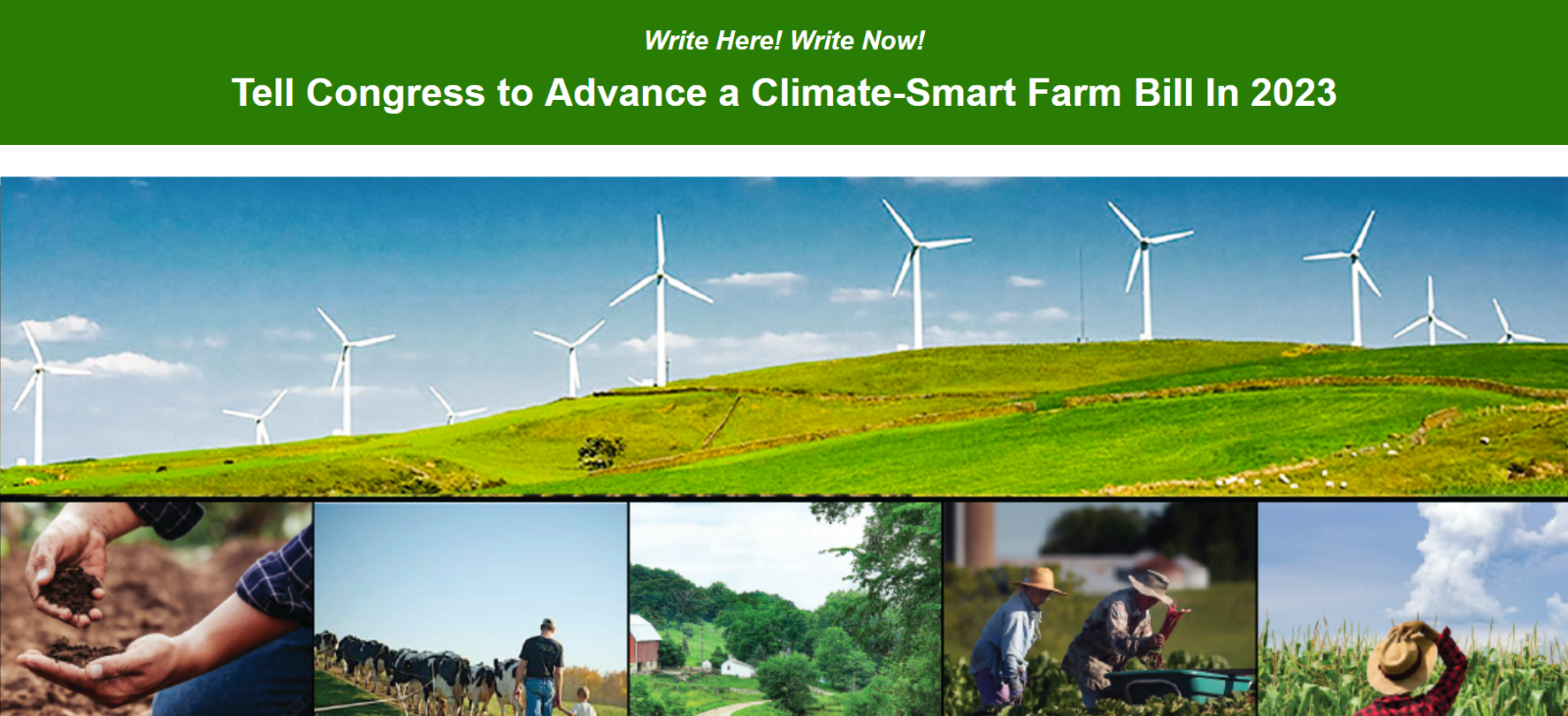 We have a critical opportunity to advocate for a climate-smart agricultural sector that advances justice. The five-year proposal now being drafted offers the chance to reduce hunger, promote environmental stewardship and promote fairness to all farmers and farmworkers. Our UU values call on us to advocate for a Farm Bill that brings about fairness, especially to farmers and farm workers of color who have been left out of earlier bills, and that encourages the production of sustainably grown, healthful food rather than commodity crops grown in ways that deplete soil and pollute our waterways.
Why now? The current Farm Bill expires on September 30, 2023, so both the House and Senate are actively working on drafting a new five-year Farm Bill. Our Representatives and Senators need to hear from us now so that the Farm Bill, as enacted, reflects our UU values. Please share and sign this petition from UUs for Social Justice to advocate for a Climate-Friendly Farm Bill in the US Congress, and work to preserve our precious waterways.
UUs in Citizens Climate Lobby

Monday, March 20th
5 pm PT/ 6 pm MT/ 7 pm CT/ 8 pm ET
Did you know that Unitarian Universalists are some of the most active members of the Citizen's Climate Lobby? This nonprofit, nonpartisan organization represents one of the biggest movements for climate legislation, and UUs put their faith into action by being among the loudest voices! Learn more about the UUs in CCL here or email them at UUActionTeam@citizensclimatelobby.org. Join their next Zoom meeting on Monday, March 20th.
**Please note that this is the link to JOIN meeting, NOT REGISTER.
Green Sanctuary 2030 Orientation


Wednesday, April 5th
4 pm PT/5 pm MT/6 pm CT/7 pm ET
Interested in the Green Sanctuary 2030 Process? Join this orientation to get a better understanding of how Green Sanctuary 2030 can help transform your congregation through climate justice. Orientation meetings are held on the first Wednesday of the month from 7-8 pm Eastern Time.

RECIPE TO SHARE
Mushroom Stout Pie With Potato Biscuits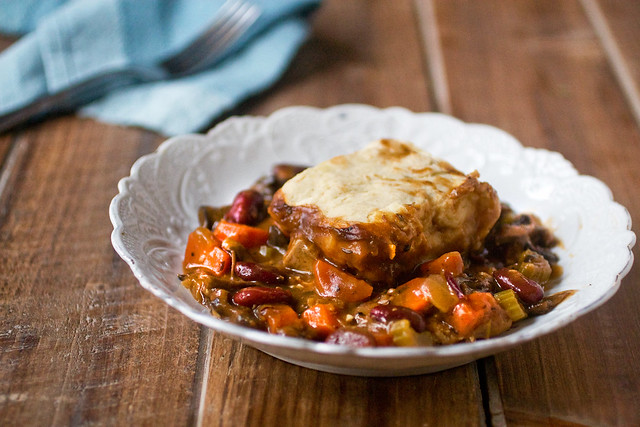 From Post Punk Kitchen - "Oh my shamrocks, this is good. A fluffy potato biscuit soaking up a deeply savory gravy that is at once mysterious and familiar. The stout really gives this dish an allure, and two kinds of mushrooms make it meaty and earthy and just umami like nobody's business. And ya know, for a special occasion, it's not tooooo fussy."
Curious to experiment? Try out the recipe!
Vegan Soda Bread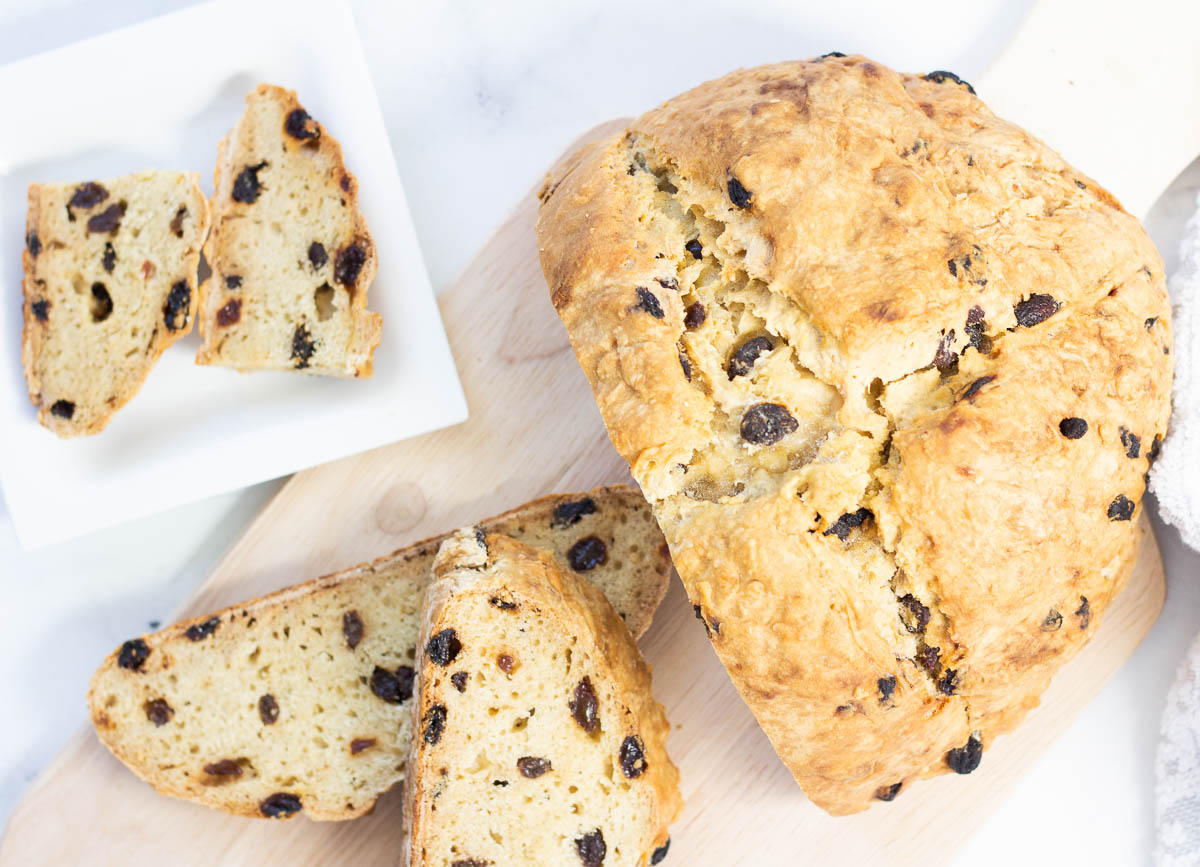 This month we're sharing TWO recipes because they just feel so timely. This traditional Irish vegan soda bread is just in time for your St. Patrick's Day celebration! This quick bread uses baking soda and vegan buttermilk to create a crusty outside, and warm and fluffy inside!

GRATITUDE
Help UUMFE Expand Our Impact!
We are so grateful for all of you that are involved in our work! UUMFE seeks new Board members ready to "Go All In" and use their talents and skills to help advocate for the flourishing of all life on Earth! The Board and Staff are a close community of UU's who want our mission to be embraced by all. Learn more here.
UUMFE is geographically dispersed, Zoom-friendly, and committed to using forward-looking, dynamic governance practices. Help us become a stronger, more dynamic, multicultural, multigenerational and counter-oppressive Board! Reach out to us at office@uumfe.org.