If you're having trouble viewing this email, you can see it online.
Dear Friends,
Unitarian Universalism is a spiritual practice that invites us to consider how we live in ways that honor the reality of interdependence and cultivate beloved communities, with one another and Earth.
First, I bring gratitude! In Summer 2022, Rev. Leonisa Ardizzone signed a contract to be our six month interim consulting minister. Rev Leonisa has served that role remarkably - and even as her formal consulting ministry ends, she will continue with UU Ministry for Earth supporting special projects- notably the course Ecology as Scripture! We wish Rev. Leonisa very well as she begins her role as Sabbatical Minister at Fourth Universalist in New York City! Congratulations!

Second, an update! In the words of our 2023 executive search team, Jolynda Peterson, Dr. Susanna Wu Pong Calvert, and Betsy Tomic, "We also are so grateful for the tremendous response we received in response to the Program Director posting. So many candidates with beautiful gifts and talents applied!" As a ministry, we will very soon announce the next Program Director to help us in the deep "work caring for Earth and those most affected by climate change."
Finally, 2023 Spring for Change is just around the corner! From a special music concert for World Water Day to Earth Day online worship and resources to Biodiversity Sunday, we have a lot in store! Keep attention to our website, and be sure to register for events in a special email going out on February 28th! We are excited to celebrate this Season of Sacred Activism with you, whether you are a committed member of your congregation's Green Team, a Unitarian Universalist Young Adult, or new to environmental justice work, and curious to go deeper!
May 2023 be a year of deepening, creation, and imagination for us all.
With gratitude,


Rev. Daniel Lawlor (he/him)
Fundraising and Communications

SPRING FOR CHANGE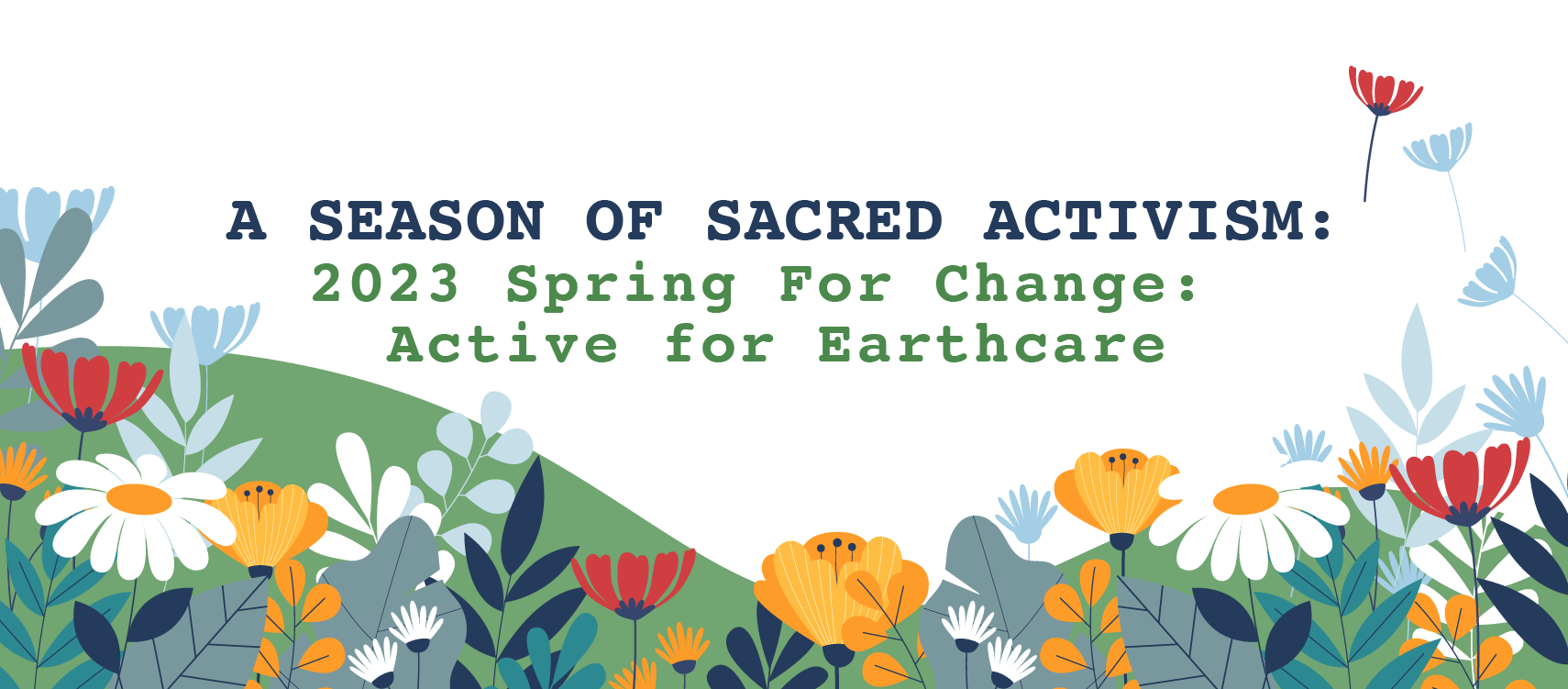 Spring for Change: a Season of Sacred Activism is an invitation to the Unitarian Universalist faith community to embody the transformational, regenerative power of Spring through sacred activism for Earth and all our relations.
The 2023 Spring for Change theme is Active for Earthcare! Beginning the evening of Sunday, March 19 (the night before the Spring Equinox on Monday, March 20th!) and continuing through May 22nd (International Day for Biodiversity).
2023 Spring for Change will have opportunities to be galvanized by a March 19th concert in honor of World Water Day, watch and share an Earth Day worship service, and connect through Biodiversity Sunday. From workshops for all ages to special programming for the UU Young Adults for Climate Justice, we're excited to connect with you.

Together, we will get active in our faith communities, our spiritual practices, and our relationships to the ecosystems we are home to. We will practice Earthcare by facing the facts and forecasts of our climate and ecological crises with courage, moral clarity, and a commitment to justice, equity and compassion.
Registration for all events begins February 28th.
EMBODIMENT
Monthly Spiritual Gatherings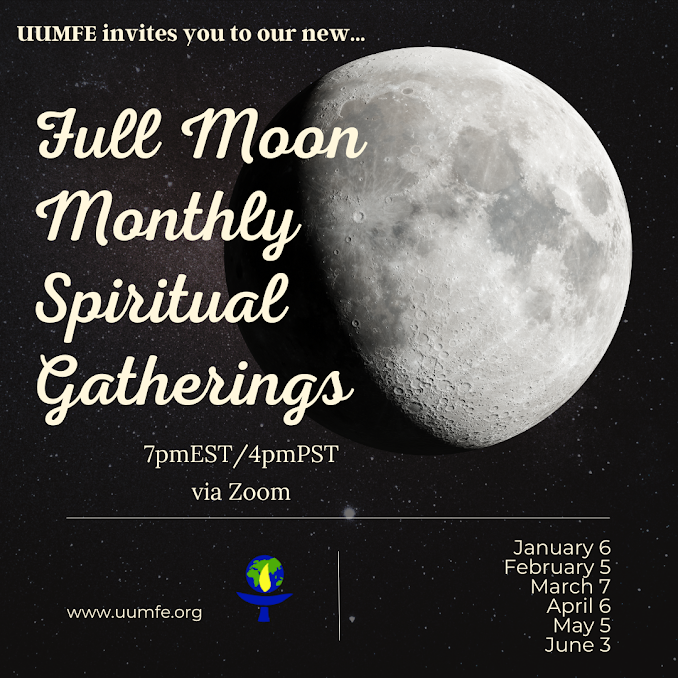 Meets on the Full Moon each month
4 pm PT/ 5 pm MT/ 6 pm CT/ 7pm ET
In 2023, UUMFE continues our Monthly Spiritual Gatherings so that we may all find time to ground, recenter, and imagine what is possible in a world in need of repair. This year to draw us more closely into alignment with Earth-based philosophies, we will follow the Lunar Calendar. We will gather each month, via Zoom, on the Full Moon to nourish our spirit. Our next gathering with be on March 7th. We hope you join us!

EMPOWERMENT
Planning the Energy Future of Your Congregation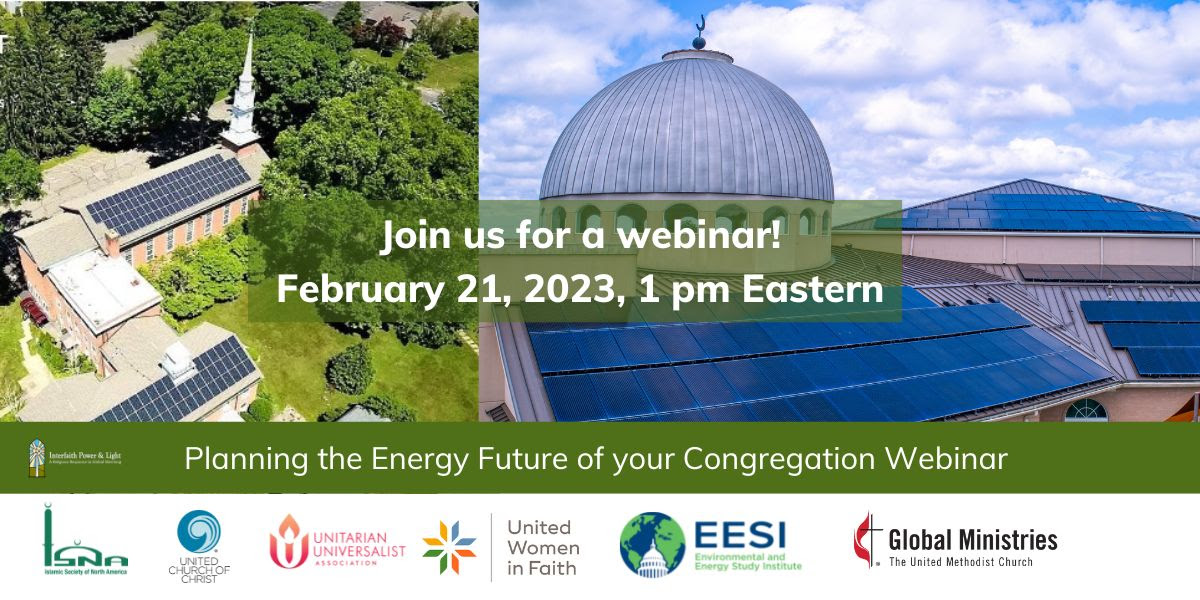 Tuesday, February 21st
10 am PT/11 am MT/12 pm CT/1 pm ET
Learn about the importance of benchmarking your facilities' energy use to shape your congregation's plan to cut energy costs and care for our sacred Earth. This is the first step to making a plan to take advantage of federal funding, like the Inflation Reduction Act.

Presenters include: Jerry Lawson, National Manager of EPA's Energy Star for Small Businesses and Congregations; Sarah Paulos, Interfaith Power and Light (IPL) Cool Congregations Program Director; and Tom Hackley from People's Church of Kalamazoo, MI. This webinar is part of a series hosted by Interfaith Power & Light, the Unitarian Universalist Association, and faith partners. You can watch the first webinar, Federal Funding Resources for Energy Work at Houses of Worship and review relevant sources on IPL's resources page.
From Opposition to Abolition - Three Steps to Nuclear Disarmament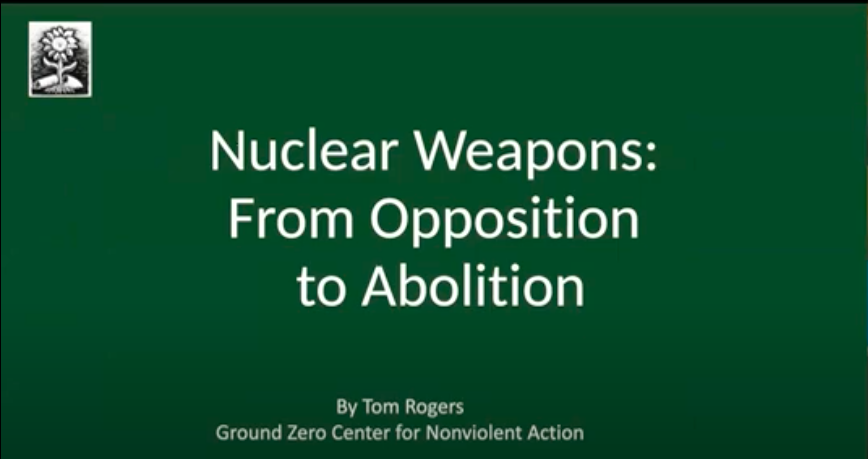 *This webinar has already happened, but is available on Youtube*
Activists have opposed nuclear weapons since the 1950s. Tom Rogers presents a phased plan for the eventual total elimination of nuclear weapons based on existing treaties, cooperative negotiation, and verification.
Tom Rogers is a 75-year-old nuclear weapons activist from Poulsbo, WA. A retired naval officer, Tom served in the US Submarine Force from 1967 to 1998, including command of a nuclear attack submarine during the Cold War. After the Cold War ended in 1991, he recognized the opportunity – and the need – to abolish nuclear weapons.
An unlikely nuclear weapons abolitionist, he has been a member of Ground Zero Center for Nonviolent Action since 2003. Since coming to Ground Zero he has worked hard to improve relations and communications between Naval Base Kitsap, local law enforcement, and Ground Zero. This has enabled Ground Zero to exercise its first amendment rights outside the Bangor Trident Base with minimum intervention by authorities.

ENGAGEMENT
Green Sanctuary 2030 Orientation


Wednesday, March 1st
4 pm PT/5 pm MT/6 pm CT/7 pm ET
Interested in the Green Sanctuary 2030 Process? Join this orientation to get a better understanding of how Green Sanctuary 2030 can help transform your congregation through climate justice. Orientation meetings are held on the first Wednesday of the month from 7-8 pm Eastern Time.

UUYACJ Movement Training Workshops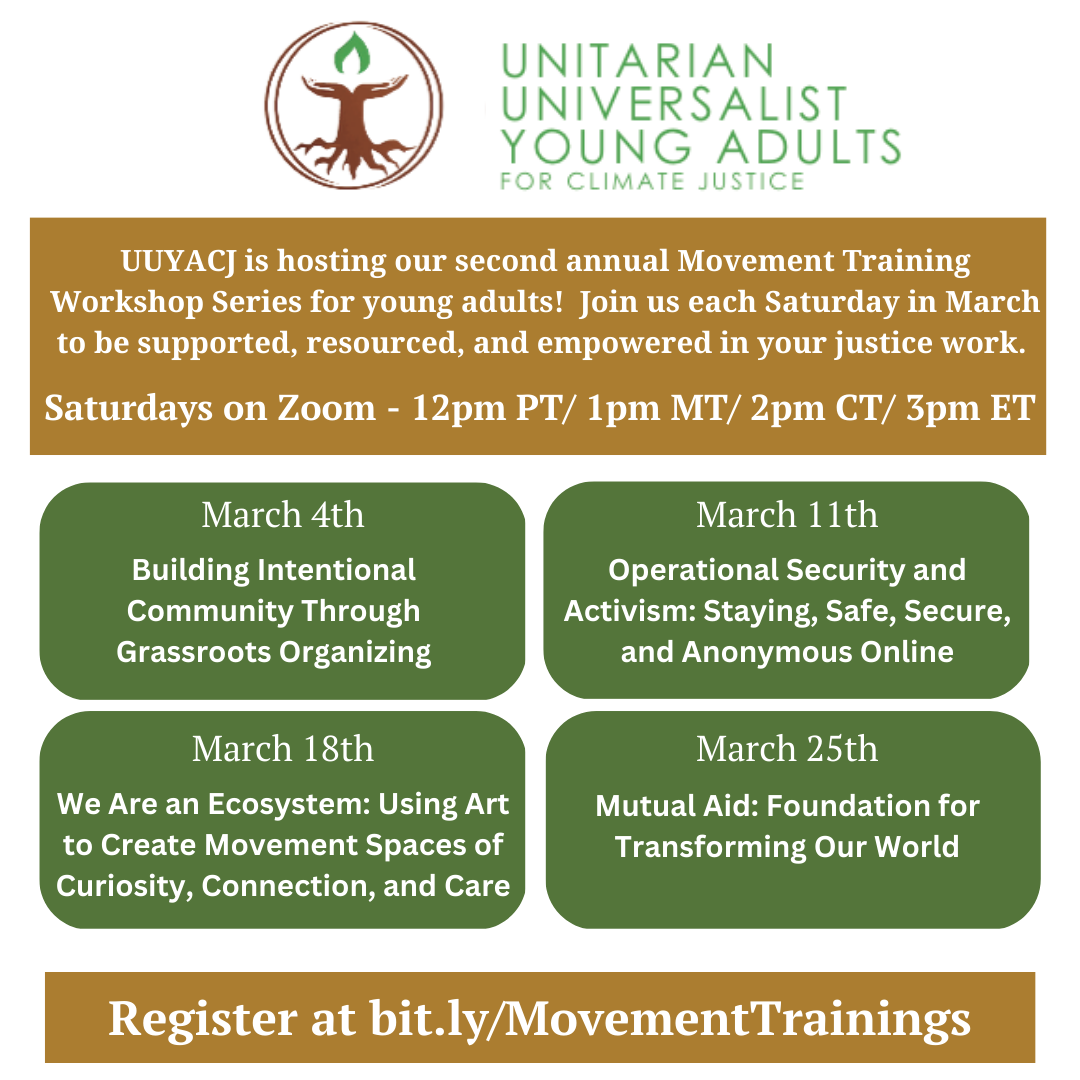 Saturdays in March (4th, 11th, 18th, and 25th)
12 pm PT/ 1 pm MT/ 2 pm CT/ 3 pm ET
UU Young Adults for Climate Justice (UUYACJ) is hosting its second annual movement training workshop series! This workshop series seeks to support, resource, and empower young adults by offering tangible organizing skills, collective knowledge, and sustainable care practices. Our workshops will include: an intro to grassroots organizing in community; comprehensive info on maintaining online security; a hands-on workshop on art in movement spaces; and an exploration of the transformative power of mutual aid.
These workshops will be happening every Saturday in March on Zoom. They'll start at 12pm PT/ 1pm MT/ 2pm CT/ 3pm ET, lasting for an hour and a half. Justice work asks so much of organizers and UUYACJ is grateful that we get to offer these free workshops as a gift in return.
Note that these workshops are only open to young adults (18-35). And while attendance is limited, we encourage our supporters to share this with all of the young adults in your life!
UU Buddhist Fellowship, Ecodharma Convocation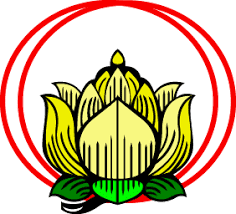 April 27th through April 30th
The national UU Buddhist Fellowship (UUBF) holds regular conversations. In April of 2023, the UUBF conversation will be held in the Midwest for the first time, with the distinguished Buddhist teacher, philosopher, and climate change activist David Loy, author of Ecodharma: Buddhist Perspectives on the Ecological Crisis. The Convocation will be April 27-30 at the beautiful DeKoven Center in Racine, Wisconsin. There are opportunities for both in-person and online attendance, as well as a public talk on Saturday, April 29.

RECIPE TO SHARE
Vegan Red Velvet Cheesecake Bites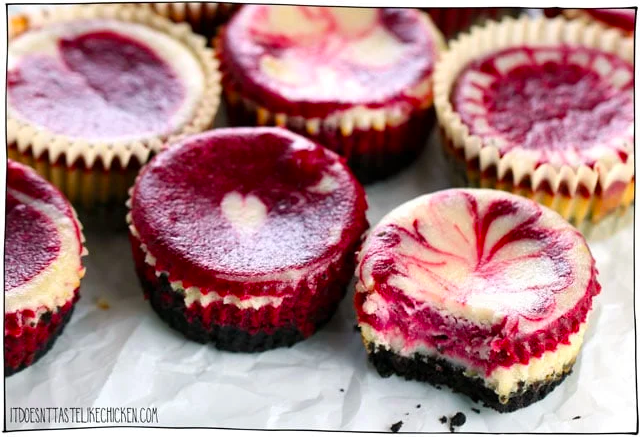 These cheesecake bites are "so pretty, so swirly, so creamy, so decadent, so surprisingly easy to make. These vegan red velvet cheesecake bites look fancy pantsy, and while they do have a few steps to make them, I assure you that each and every step is easy to do."
These are perfect for Valentine's Day or other special occasions. Curious to experiment? Try out the recipe!

GRATITUDE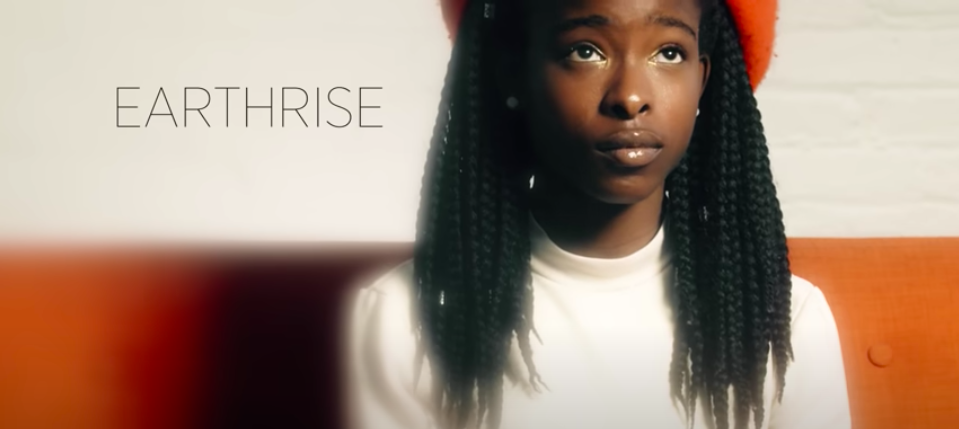 During this Black History Month, we lift up the shared work between climate justice and racial justice. We are bound up in this work together, but the climate crisis is most felt by those who are already living at the intersections of oppression. We are grateful for the activists that hold the complexity of these multiple, overlapping justice movements. Many of us know Amanda Gorman for her poem, "The Hill We Climb," delivered at President Biden's inauguration.
Gorman is also a climate activist and shared this inspiring poem, "Earthrise" from the stage at the Los Angeles Climate Reality Leadership Corps Training in August 2018. She writes, "for it is our hope that implores us, at our uncompromising core, to keep rising up for an earth more than worth fighting for."