If you're having trouble viewing this email, you can see it online.
Dear Friends,
Unitarian Universalism is a wisdom-seeking religious tradition. In our tradition, we are called to honor the good in multiple religious faiths, and seek justice, equity, and compassion in our relationships with one another and Earth.
We are in a culture of deep transition. Old years are turning into new ones, inherited practices and deep beliefs are being questioned and reimagined, and there are hidden - and very apparent - opportunities to live our spiritual practices more deeply, interpersonally, institutionally, and as part of a deepening movement for wholeness.
We are so humbled by you, by the hundreds of contributions that support our ministry, by your passion for climate justice and a better world in relationship with one another as we work for the changes needed in our own lives, communities, and in our wider culture. Thank you!!
I was moved by this powerful July 1968 reflection from
Coretta Scott King
, both pastoral and prophetic. Perhaps it will offer you reflection and inspiration for the struggles ahead, and the partnerships to build. May 2023 be a year of deepening, practice, and imagination for us all.
With gratitude,


Rev. Daniel Lawlor (he/him)
Fundraising and Communications

Support UUYACJ In Attending a Climate Justice Convergence
Our young adult caucus, UUYACJ, is traveling to New Orleans for a climate justice convergence! The theme of the convergence is "Resilience Over Climate Abuse" hosted by Power Shift Network. Programming at the convergence will cover five themes; Movement History and Political Education; Healing Spaces and Community Care; Using Art in Our Work; Skill Trainings to Strengthen Resilience; and Centering Lessons from the Gulf Coast.
This is an opportunity for members of UUYACJ to deepen their knowledge, put justice into practice, and build meaningful connections with other climate justice activists. In order to make this trip possible, they need to raise $3,300 by February 5th. You can donate through their Faithify campaign.

EMBODIMENT
Monthly Spiritual Gatherings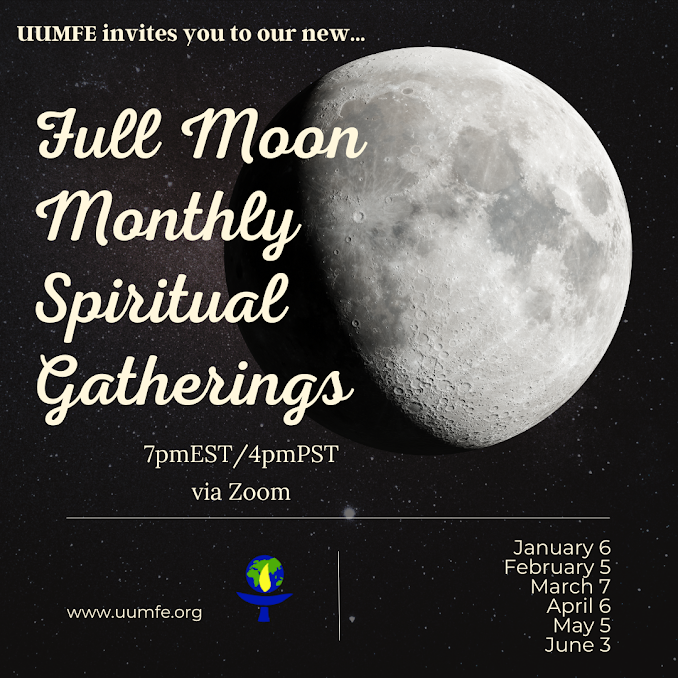 Meets on the Full Moon each month
4 pm PT/ 5 pm MT/ 6 pm CT/ 7pm ET
In 2023, UUMFE continues our Monthly Spiritual Gatherings so that we may all find time to ground, recenter, and imagine what is possible in a world in need of repair. This year to draw us more closely into alignment with Earth-based philosophies, we will follow the Lunar Calendar. We will gather each month, via Zoom, on the Full Moon to nourish our spirit. Registration links will be shared closer to the date. We hope you join us!
Minister Support Group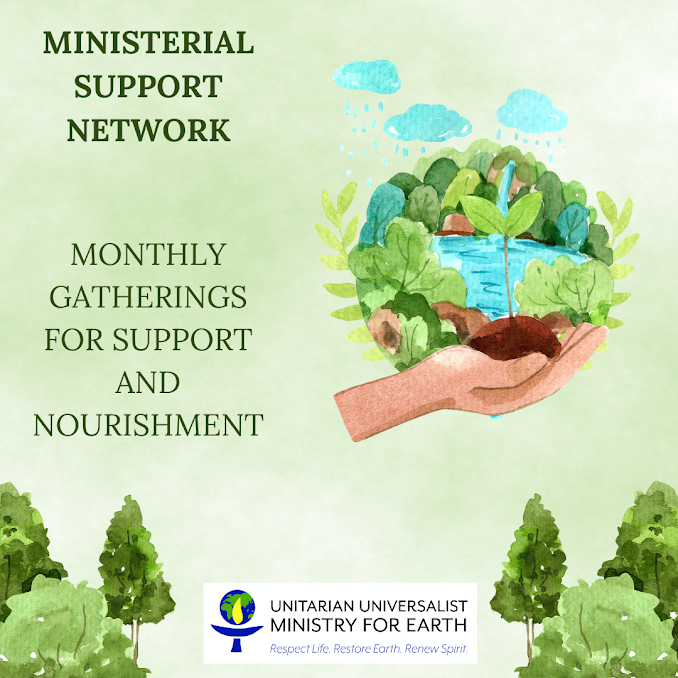 Meets Monthly
Date and Time To Be Announced

Join Rev. Leonisa and Rev. Daniel for a Monthly gathering for fellowshipped UU ministers to support, guide, and learn from one another as we work to care for people and the planet. We will meet monthly January through June.
Monthly Musings Sign-up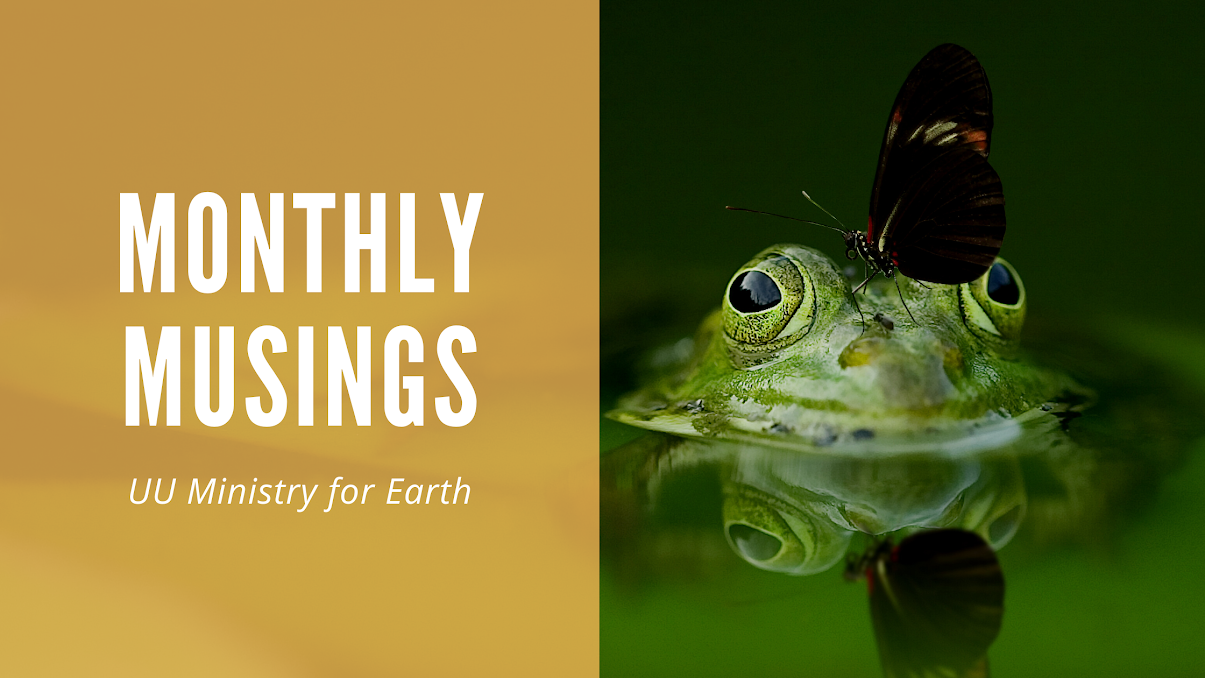 Ministers and Congregations! Are you looking for monthly Earth-based inspiration for worship services? Sign up to receive UUMFE's newest endeavor: Monthly Musings. Each month, your congregation will get a copy of 'Monthly Musings from UUMFE' focused on a different theme and filled with materials to help with your EMPOWERMENT, EMBODIMENT, & ENGAGEMENT in the face of climate chaos and environmental injustice. We hope you use these resources for worship, contemplative practice, and religious exploration in your congregation.
**Please note, this is an email list for Ministers and Congregations, not individuals.
UUMFE BIPOC Caucus x 8th Principle Learning Community

Wednesday, January 11th
4 pm PT/ 5 pm MT/ 6 pm CT/ 7 pm ET
**Will last for two and a half hours
Given the intensifying climate crisis, how do we work in solidarity to care about the future and each other so we take actions today that ensure the best possible outcomes? How do the proposed changes to Article II call us more deeply into the 7th and 8th Principles? You are invited to one or both parts of this two-part meeting on January 11th.


7:00 pm – 7:50pm ET: Religious Education and Faith Formation
What is the role of religious education and faith formation in shaping UU hearts and minds about our collective responsibility to protect and preserve a sustainable environment? How are religious educators teaching 7th and 8th Principle values? How can we join in multigenerational efforts for sustainable environments?


8:00 pm – 9:30 pm ET: Discussion on Social Justice and Advocacy
What is happening in our congregations and legislative ministries at the intersection of the 7th and 8th Principles? We invite you to share information and stories about projects that illustrate the intersection of these two Principles? More specifically, we are looking for stories of where BIPOC UU members are engaged in environmental and climate justice, and where congregations are working with BIPOC community partners on environmental and climate justice matters.
**Please note that this is the link to JOIN meeting, NOT REGISTER.
Peace, Justice, and Planetary Care Restorative Weekend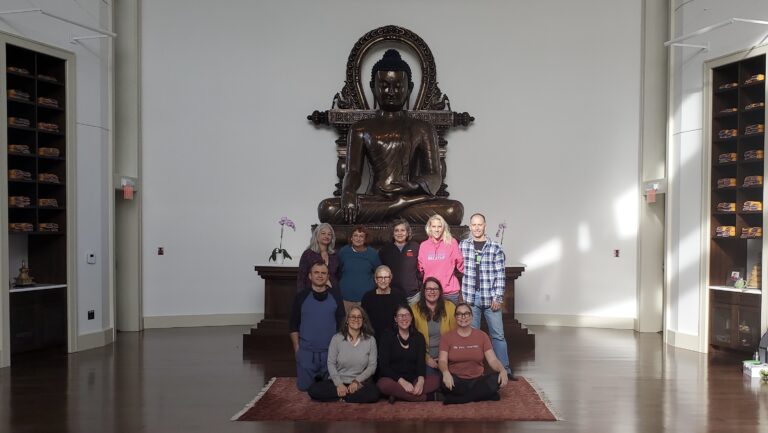 Friday, March 31st - Sunday, April 2nd
In-person Gathering in Cragsmoor, New York
Are you an educator, community organizer, or leader who feels that society is in desperate need of transformation? Spend a restorative weekend in Cragsmoor, NY hosted by Rev. Leonisa deepening your connection to creation, exploring ways to find personal peace, and developing the tools to sustain your work as a peace and justice builder. This program uses the three core values of Peace Education as a foundation—Global Citizenship, Planetary Stewardship, and Humane Relationship—and will help you to embody them in your work.

ENGAGEMENT
UUs in Citizens Climate Lobby

Monday, January 16th
5 pm PT/ 6 pm MT/ 7 pm CT/ 8 pm ET

Did you know that Unitarian Universalists are some of the most active members of the Citizen's Climate Lobby? This nonprofit, nonpartisan organization represents one of the biggest movements for climate legislation, and UUs put their faith into action by being among the loudest voices! Learn more about the UUs in CCL here or email them at UUActionTeam@citizensclimatelobby.org. Join their next Zoom meeting on Monday, January 16th.

**Please note that this is the link to JOIN meeting, NOT REGISTER.
Divestment Workshop with Fourth Universalist Society
Tuesday, January 17th
4 pm PT/ 5 pm MT/ 6 pm CT/ 7 pm ET
Join the Fourth Universalist Society Environmental Justice Team as they consider strategies for leveraging our finances in the fight against environmental destruction. Our guest will be Michael Richardson from the Rivers & Mountains GreenFaith Circle.
Michael will lead us in an interactive conversation on how to move personal and organizational finances away from funding fossil fuel extraction, production, and distribution and see your deposits, premiums, and investments used to fund local businesses and farms, affordable housing, and the development of regenerative clean energy.
If you weren't able to make the divestment workshop that UUMFE hosted with Michael back in October, this is a great opportunity to engage with the same material. It will be happening on Tuesday, January 17th at 7pm ET.

EMPOWERMENT
Ecology As Scripture Long-Course
UUMFE is excited to launch our first "long course": Ecology as Scripture. The course will meet SIX TIMES, so please commit to attending all classes (although we do realize that things come up that may interfere with attendance)! Class meets on Tuesday evenings at 7 PM EST/5CST/4PST. Dates are: January 31st, February 7th, February 21st, February 28th, March 21st, and March 28th. Led by Rev. Dr. Leonisa Ardizzone, we will explore interfaith/interspiritual teachings and practices that will guide us into personal, local, and global responses to climate chaos and environmental injustice.
Green Sanctuary 2030 Celebration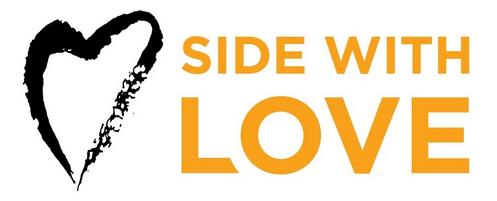 Wednesday, January 18th
4 pm PT/ 5 pm MT/ 6 pm CT/ 7 pm ET
Will last for an hour and a half
The Green Sanctuary 2030 Celebration will spotlight the amazing work UUs are doing through the GS2030 program. Active Green Sanctuary congregations will share their successes, challenges, and ideas. Come to learn and leave inspired! All are welcome!
Come together for shared learning and mutual support with other UUs working on congregational transformation through climate justice on the third Wednesday of the month at 7ET - 6CT - 5MT - 4PT. Each meeting includes a short presentation on a climate justice topic, followed by an open discussion on pressing needs.
Faith in Food: Individual and Collective Responsibility in Food Practices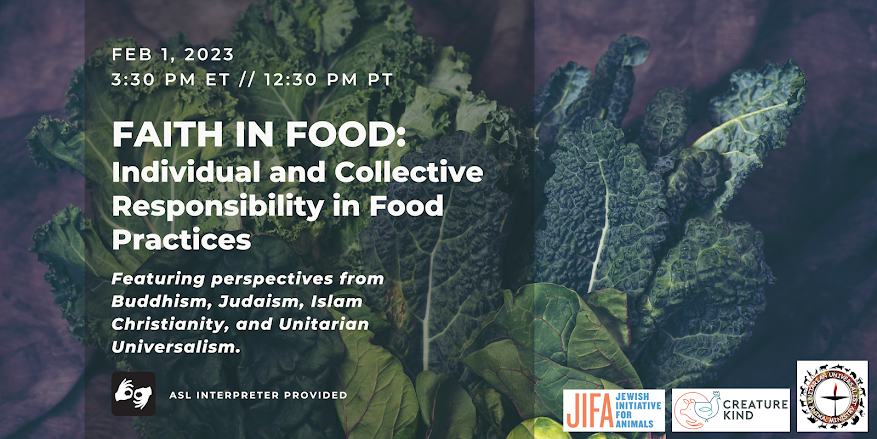 Wednesday, February 1st
12:30 pm PT/ 1:30 pm MT/ 2:30 pm CT/ 3:30 pm ET
Unitarian Universalist Animal Ministry, CreatureKind, & Jewish Initiative for Animals invite you to an important interfaith panel on the impact of individual actions and the collective power of community, and how we can come together to work towards a more just food system for animals, people, and the Earth.

Faith in Food: Individual and Collective Responsibility in Food Practices will feature clergy and leaders in the Buddhist, Christian, Jewish, Muslim, and Unitarian Universalist spaces. The panelists will share experiences from their own religious communities and how we can look towards collective efforts that include community change, legislative progress, justice movement coalition building, and widespread action for the greater good. This program is sponsored by the Better Food Foundation. ASL interpreters will be provided.
UUSJ Federal Matters with Susan Frederick Gray
Thursday, February 2nd
5 pm PT/ 6 pm MT/ 7 pm CT/ 8 pm ET

Mark your calendars early so as not to accidentally double-book your time. President Reverend Susan Fredrick-Gray, Unitarian Universalist Association will share her thoughts about federal matters with UUSJ members and friends. There is no link yet, but it will be posted on the UUSJ website.

Food Not Feed Summit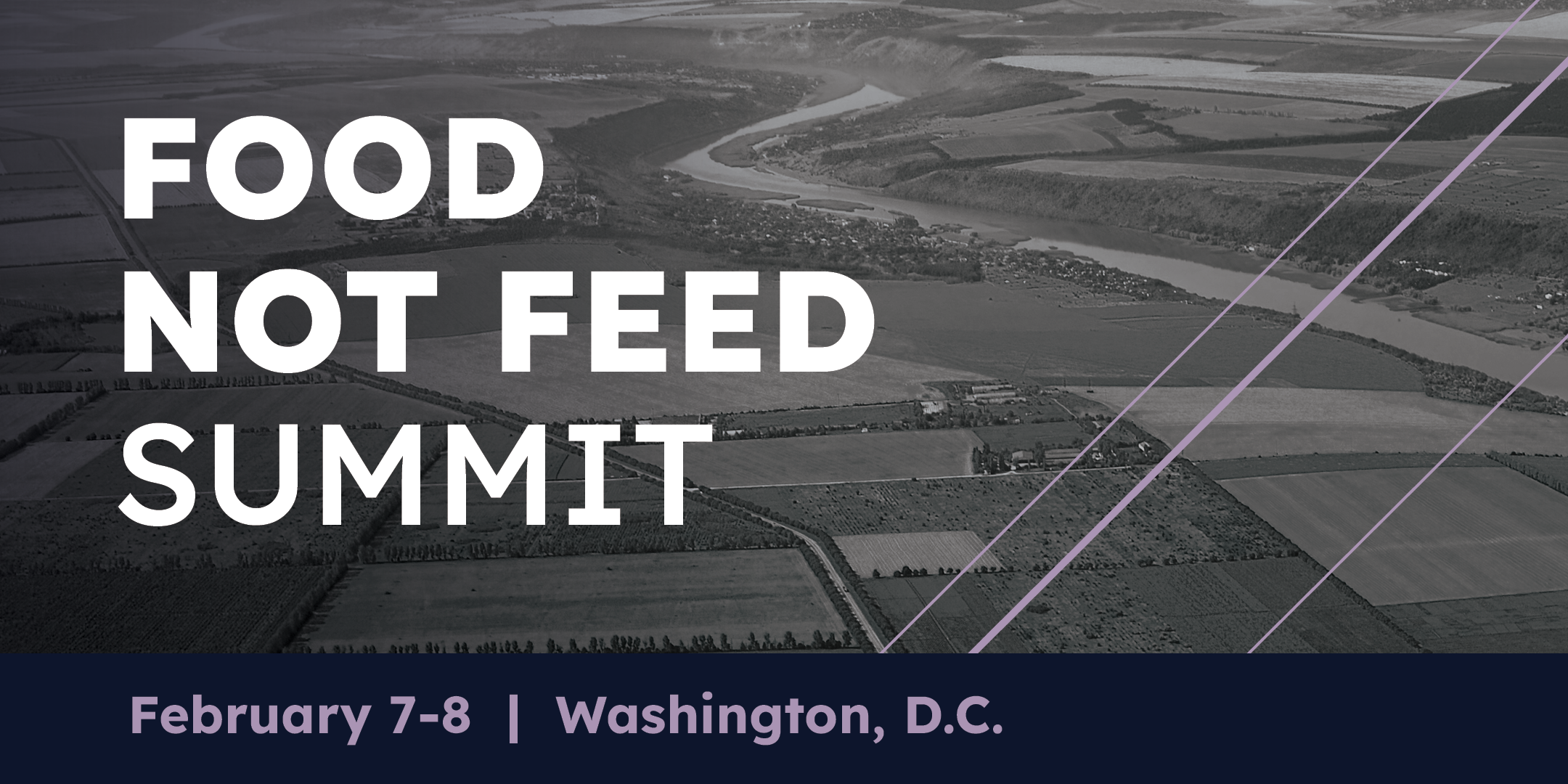 February 7th and 8th
In-person Advocacy Event in Washington D.C.
A broad coalition of stakeholders – including farmers, workers, rural communities, animal advocates, environmentalists, faith organizations, and public health advocates – are joining together to fight for a food system that prioritizes growing healthy and nutritious food for people over commodity crops that feed animals on industrial farms. The coalition aims to establish an agenda of shifting federal farm subsidies toward fiber-rich foods and non-industrial, regeneratively raised livestock and poultry within a system that's fair and equitable from seed to fork. The Food Not Feed Summit is a project of Farm Action's Fair Farm Bill Campaign.
UU's for Social Justice invited UUMFE to join the advocacy and add our voices to the effort. Learn more about how the Farm Bill impacts our food choices and the prospect of a climate-smart agriculture system.

RECIPE TO SHARE
Easy Vegan Chili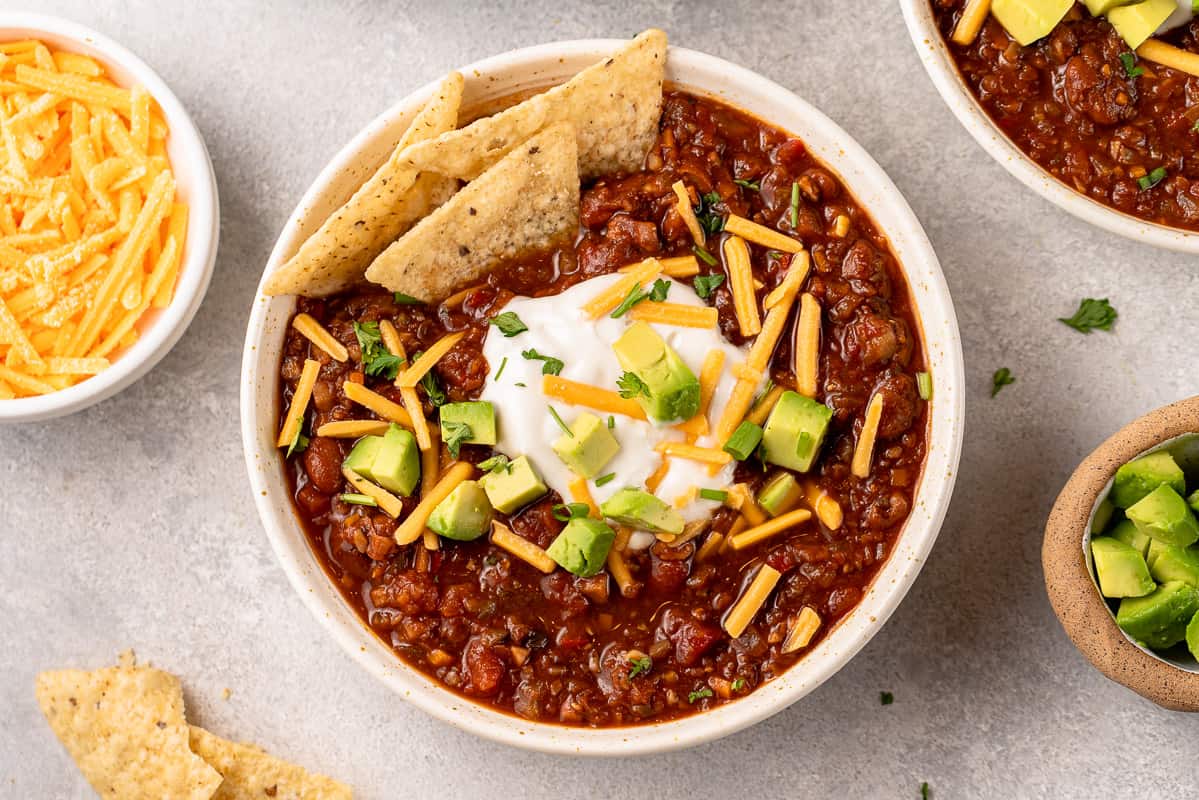 From Sweet Simple Vegan, "this Vegan Chili comes together in one pot and is chalked full of good-for-you plant-based ingredients like mushrooms, walnuts, lentils, and beans. It's naturally high in protein, gluten-free friendly, and makes the best leftovers! Have this on the table with just 30 minutes of hands-on prep."
There's nothing like a warm pot of chili on a cold winter evening. Curious to experiment? Try out the recipe!

GRATITUDE
At the beginning of this new year, many of us are making resolutions or goals for the year ahead. We are grateful for artists like Annika Hansteen-Izora that remind us to move slowly and exist in wonder:
"I am delighted to announce that I will not be hitting the ground running into the new year! I will be taking my sweet ol' time on this long and winding stroll. I'll be stopping to point out every perched bird and tree that's bent like it's caught in an eternal wave so that I can gratefully wave back. I'll be drifting gently like dandelion seeds off a breath of hope. I'll be pausing to say hi to the fellow mosey-ers that pass by. I'll be ambling and moon-eyed and drinking in all the wonder eagerly awaiting my heart. I'll be paying closer attention. I will trust even when I feel lost there is a path. This year the rush, the hand pointed to the ticking clock, they were left behind. Instead, I patiently folded an apricot jam and almond butter sandwich and tucked it into my tote before opening the door. The sky is beckoning. I'll be taking my time as I make my way towards it."