If you're having trouble viewing this email, you can see it online.
Dear Friends,
For those of us living in the Northern Hemisphere, we have entered the season of Autumn and are already seeing the colors of creation transform before our eyes. As trees begin their process of heading into rest, we hope that you all are also finding time to explore the wonders that surround you while also taking time to sit, rest, and rejuvenate. Changing leaves mirror some of the changes underway at Unitarian Universalist Ministry for Earth - new programs, partnerships, and offerings - all designed to invite you more closely into relationships that support the Flourishing of All Life.
Just like many congregations, we have chosen the theme of "Courage" to guide our offerings in October, the beginning of our Fall for Justice. We are still learning of the devastations caused by Hurricane Ian and Fiona, and are humbled by the tens of thousands leading community care and mutual aid efforts. We are inspired by the work of the UUA Disaster Relief Fund to aid communities in struggle.
The call to Embodiment, Empowerment, and Engagement anchor this season. As the weeks unfold, we invite you to take an extra look at the events below. For instance, we are starting a new study support circle and offering a new series on divestment. Perhaps one of these new Fall for Justice offerings may be of particular interest to you or to share in your community wherever you find yourself in this moment of transition.
We carry a faith that beckons us to accompany one another in joys and sorrows, to be courageous. May we be present, compassionate, and connected, today and in the days to come.
With prayers for justice and connection,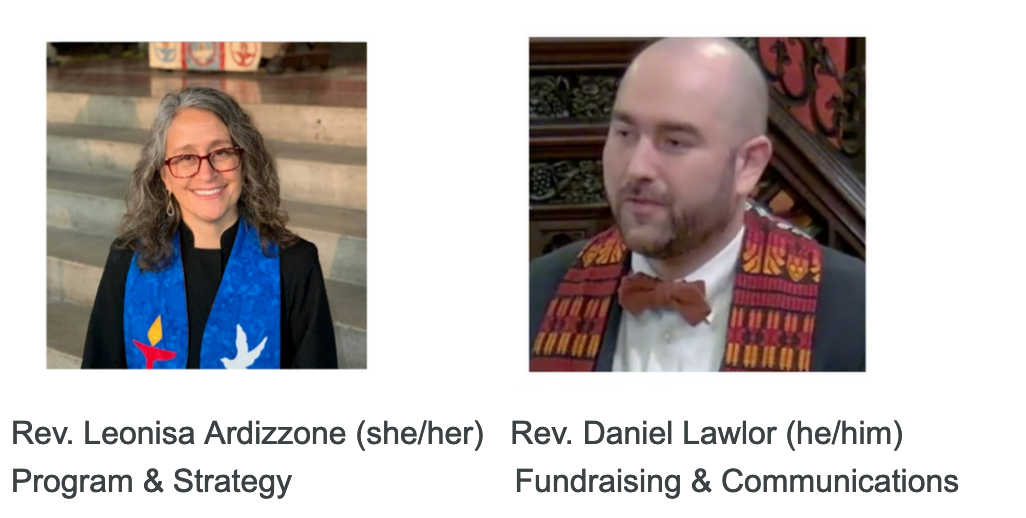 P.S. This past Monday, varied communities honored Indigenous People's Day. UUs for Social Justice and UU Ministry for Earth are elevating a special petition to support the wider adoption of Indigenous People's Day to honor the past, present, and future of Indigenous peoples. Learn more here.

EMBODIMENT
Embracing an Indigenous Worldview of Climate Change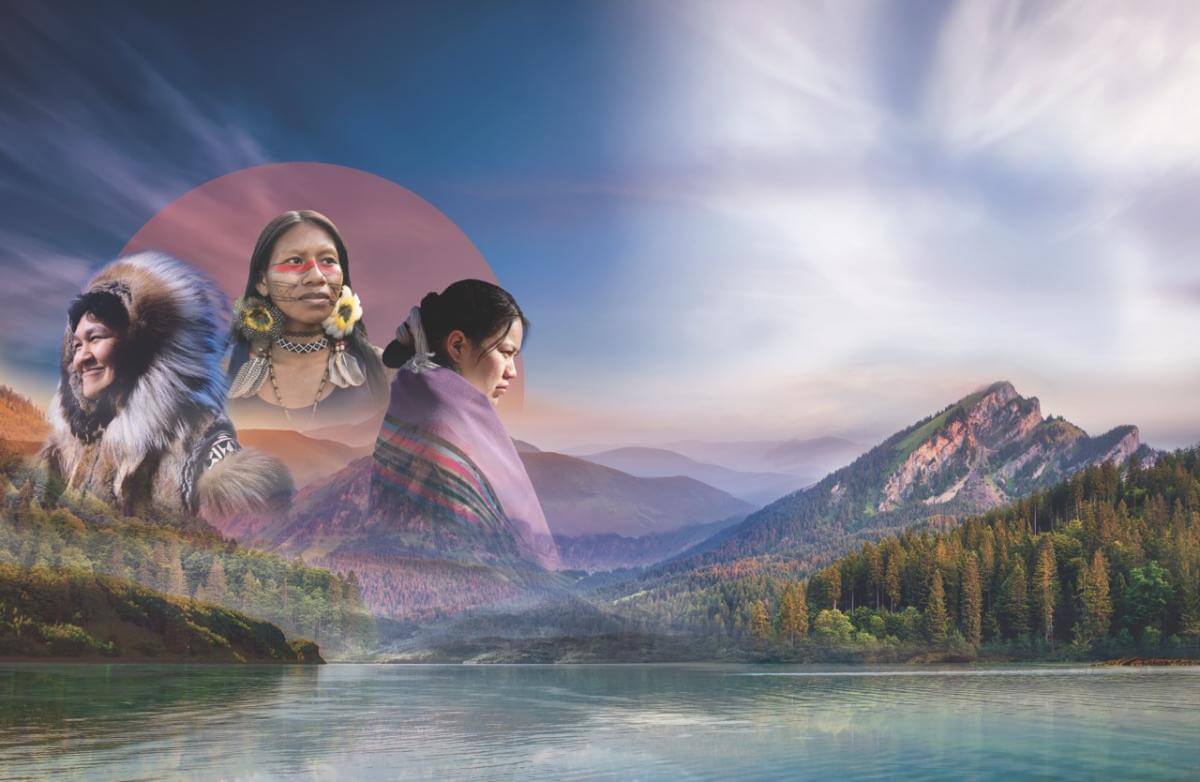 This UU World article from Nazune Menka calls us to embrace an Indigenous worldview of climate change. She writes:
"The importance of an Indigenous worldview is illuminated by the impacts of climate change, and climate change is exacerbated by the western world's historic and contemporary reliance on imperialistic endeavors to extract resources in the name of capitalism... We need not continue to extract, take, remove, sell, covet, own, profit, or destroy. Another story is possible if we just listen to the past and allow it to take us into the future."
On Making Amends
In recognition of Yom Kippur last week, we've been reflecting on atonement and forgiveness. We share this wise message by Rabbi Danya Ruttenberg from her book, On Repentance and Repair.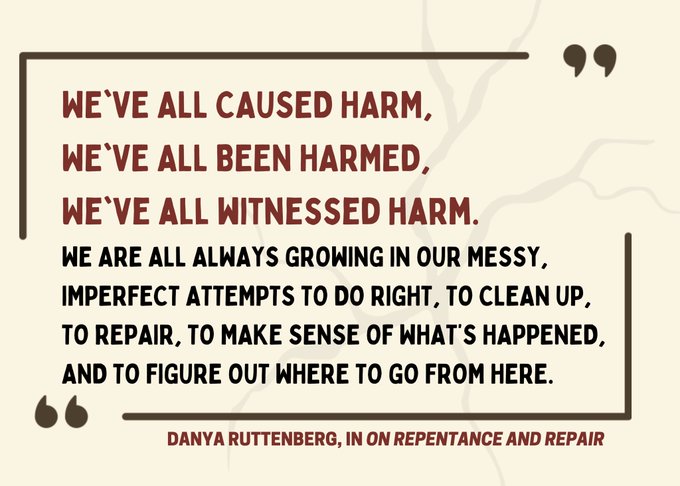 Photo Credit: Anne LaMott, Twitter @ANNELAMOTT

ENGAGEMENT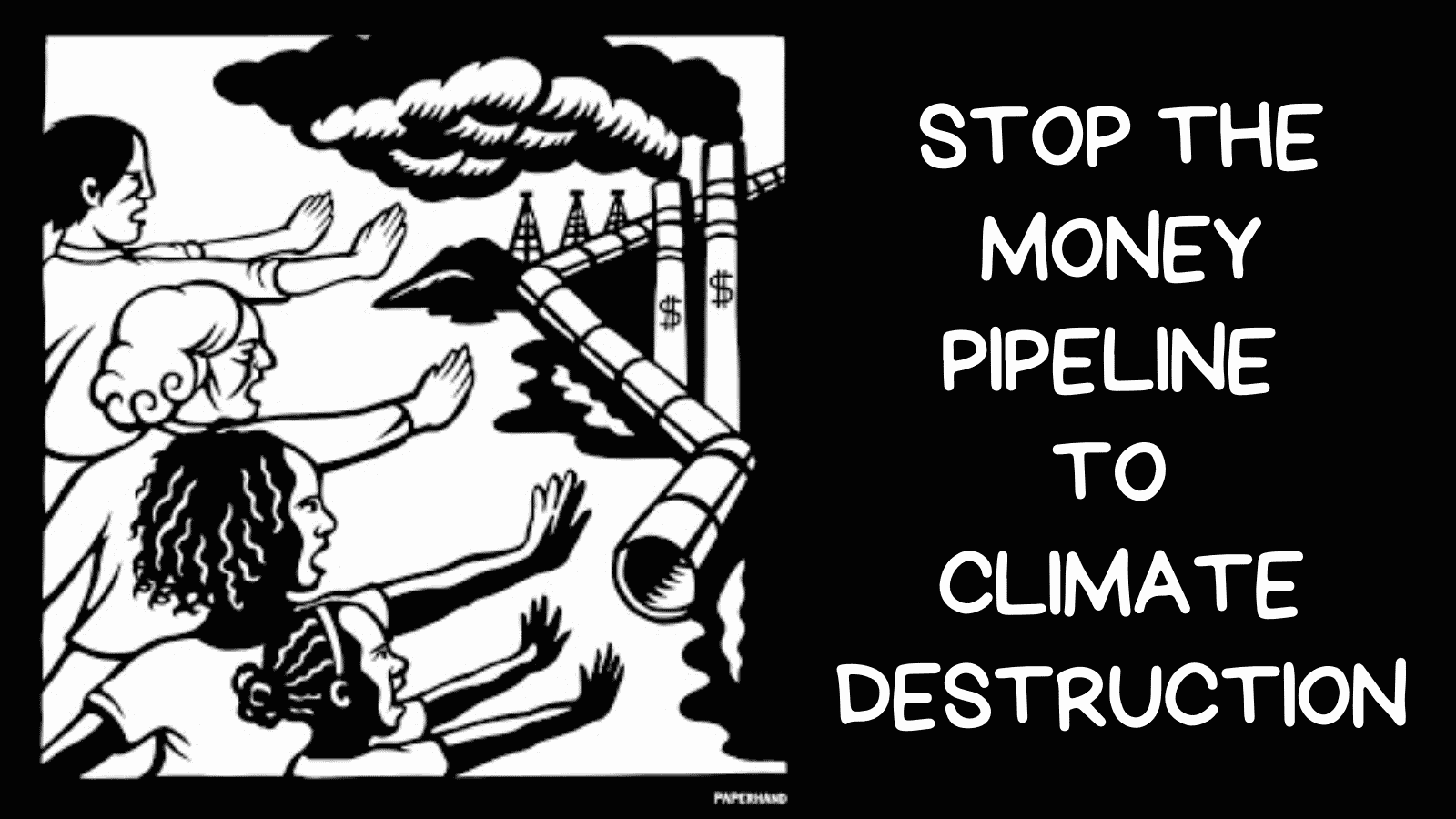 Saturday, October 20th
4 pm PT/ 5 pm MT/ 6 pm CT/ 7 pm ET
Join us for a FREE online workshop with Michael Richardson, co-founder of the Rivers and Mountains GreenFaith Circle, to learn how you and your congregation can move your money away from fossil fuels!

Tuesday, October 25th
4 pm PT/ 5 pm MT/ 6 pm CT/ 7 pm ET
Climate disasters impact our communities - how can UUs be prepared? Join this series of workshops with activities to help you identify the climate risks, understand who is most at risk and how your community will be impacted. From there, make a plan to prepare for and respond to climate disasters in your neighborhood.
This is a series of workshops. The one on October 25th is "Mobilizing For Action." All sessions are 90 minutes long.
Tell Your Legislators to Pass the Indigenous People's Day Act

Indigenous Peoples' Day honors the past, present, and future of Native peoples throughout the US. It's aimed at changing the narrative around the arrival of Columbus to reflect a more accurate history. The holiday celebrates the cultures, contributions, and resilience of contemporary Native Peoples. It recognizes the legacy and impact of colonialism on Native communities.
On October 8, 2021, President Joe Biden recognized Indigenous People's Day by issuing a proclamation, "On Indigenous Peoples' Day, our Nation celebrates the invaluable contributions and resilience of Indigenous peoples, recognizes their inherent sovereignty, and commits to honoring the Federal Government's trust and treaty obligations to Tribal Nations. On Indigenous Peoples' Day, we honor America's first inhabitants and the Tribal Nations that continue to thrive today."
But there has been little federal action since to spread that recognition. We invite you to voice principled concern and pressure for recognition and proper historical context, as exemplified in Senate Bill 2919 and House Bill 5473, making it a legal public holiday substituting Columbus Day.

EMPOWERMENT
Minister's Monthly Book Club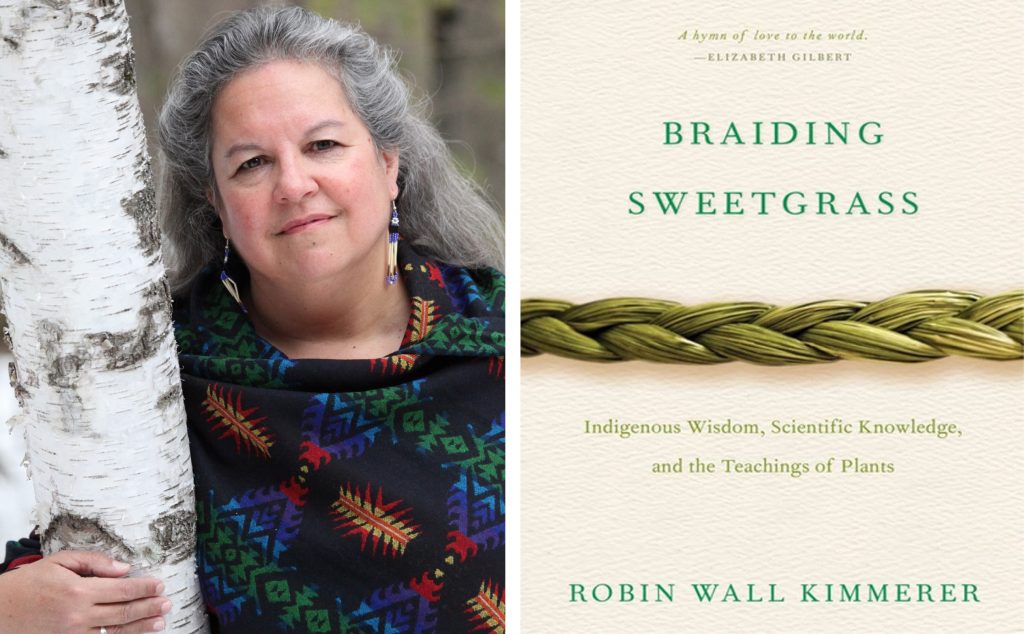 Dates: October 17th, November 14th, and December 12th
12 pm PT/ 1 pm MT/ 2 pm CT/ 3 pm ET
Calling all UU Ministers! Join Rev. Daniel and Rev. Leonisa (Co-Directors of UUMFE) for a NEW monthly book club. We'll read and discuss "Braiding Sweetgrass: Indigenous Wisdom, Scientific Knowledge, and the Teachings of Plants" by Robin Wall Kimmerer. We'll be meeting across three Mondays: October 17th, November 14th, and December 12th. The first 20 registrants get a free copy of the book!
BIPOC Caucus

Thursday, October 20th
4 pm PT/ 5 pm MT/ 6 pm CT/ 7 pm ET (Will last for two hours)
Following our very successful launch of the fall season on September 14, we would like to continue our focus on "How the 7th Principle Meets the 8th Principle?" Our next meeting is scheduled for Thursday, October 20, from 7 to 9 pm Eastern time. We would like this to be a forum where we share ideas and accomplishments of our fellow participants, learn lessons and draw inspiration. We invite you to come to this gathering and share your stories.
In addition to sharing stories in breakout groups, we would also like to highlight three or four of the most inspiring stories in the large group with everyone present. If your congregation would like to be featured, we invite you to send us an email with a brief description of your story and tell us how your work illustrates how the UU 7th Principle met the 8th Principle and background details. More details will be forthcoming. So, save this date on your calendar and think about what stories you can share.
New York UU Collaborates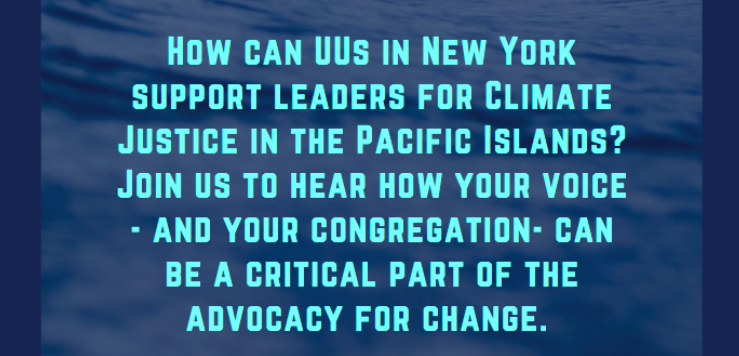 On Tuesday, October 4, 2022, NY UU Collaborates was honored to host a profound forum, "Fighting Climate Change- Student Movements Globally." The event was facilitated by Ember Kelly, Director of Religious Education at Fourth Universalist in New York City, and held a grounding opening prayer by Rev. Jennifer "Jo" VonRue (she/her/hers) Minister at May Memorial Unitarian Universalist Society in Syracuse, NY. The core of the event was a deeply moving panel discussion between Salote Soqo, of the Unitarian Universalist Service Committee, and Solomon Yeo, of Pacific Island Students Fighting Climate Change, moderated by Rev. Daniel Lawlor. A key question was, "How can UUs support leaders for Climate Justice globally?" Please listen to this profound recording to consider how your voice - and your congregation- can be a critical part of the advocacy for change.
Sponsored by: NY UU Collaborates, a growing working group including UU Ministry for Earth, Fourth Universalist Church, and NY UUs for Justice. NY UU Collaborates is working together to organize a series of four forums on Zoom this year on the climate crisis and our UU faith life.

Save the upcoming fall dates in our series (all on Zoom):
Tuesday, November 1 at 7 pm ET
Disaster Response: Community Care and Climate Adaptation
Tuesday, December 6, at 7 pm ET
Faith Life and Climate Crisis

SECOND CHANCE TO SIGN PETITIONS
We have a few petitions this month that still need signatures! If you haven't signed these already, we encourage you to do so.
Extended Deadline! Help Save Irreplaceable Sacred Land From a Proposed Open Pit Gravel Mine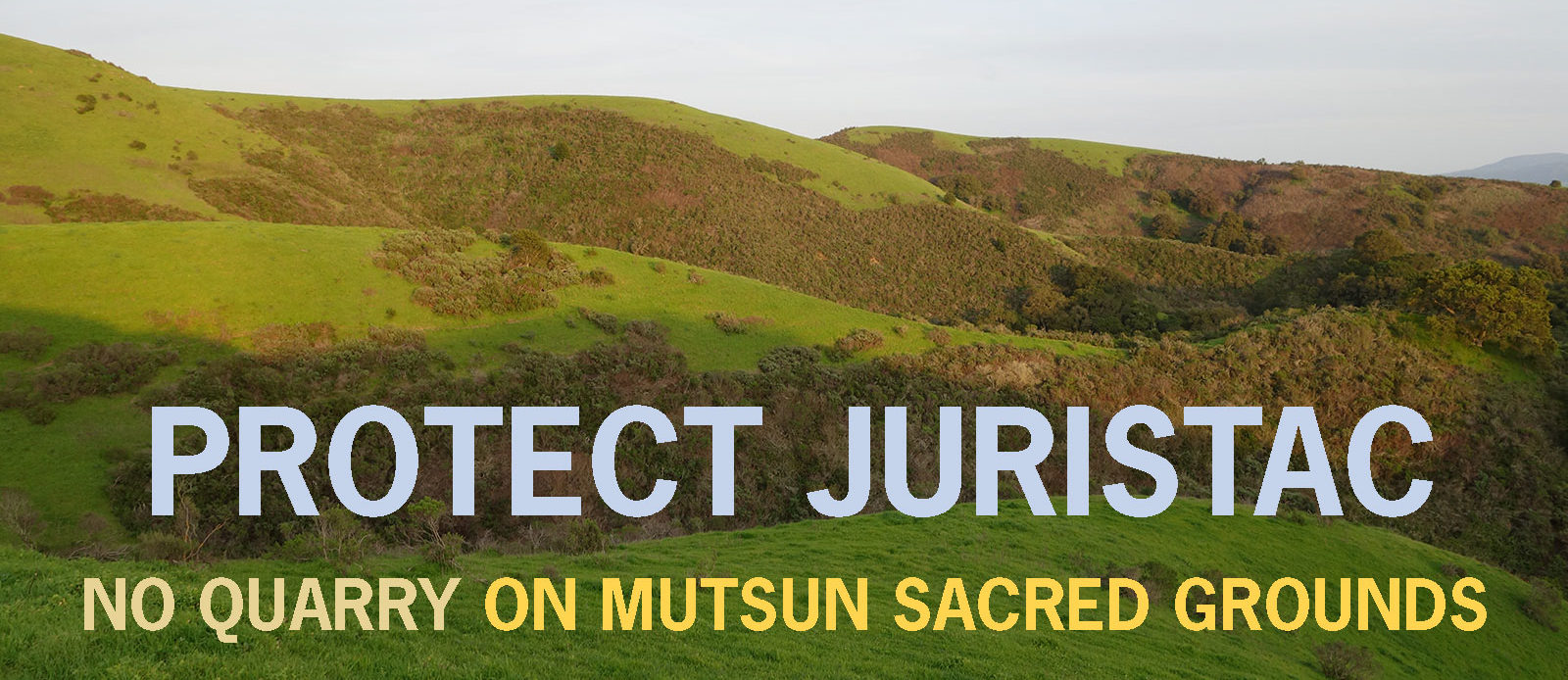 A 400 acre sand and gravel mine threatens the most sacred grounds of the Amah Mutsun Tribal Band just south of the San Francisco Bay Area. It would also block a critical wildlife corridor, and take 86,000 gallons of water a day from a sensitive aquifer. Public comment closes November 7 on the Draft Environmental Impact Report. Please take a few seconds to submit a comment or learn more and then comment today. You can use the draft letter that's offered or customize it. No need to be local to sign. Show Santa Clara County, California, the world is watching! This 4 minute video tells the story. Help our local UU churches support the tribe by signing the petition and following the tribe on Instagram and Facebook. Thank you!
Tell Congress the Time Has Come to Pass the Environmental Justice for All Act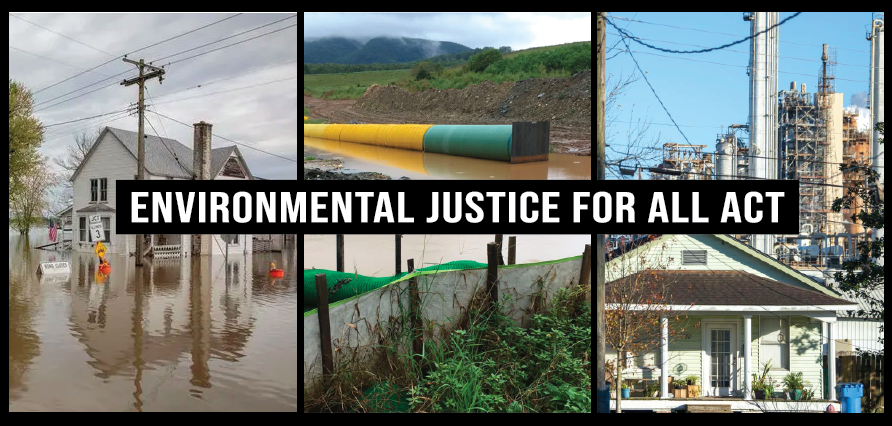 The recent passage of the Inflation Reduction Act (IRA) is an overall significant step toward greater investment in clean energy. Unfortunately, some provisions of the IRA may actually stimulate fossil fuel production and worsen pollution in areas already saturated by heavy industry. And as part of the compromise that allowed the bill to go forward, Congress may soon consider loosening some procedural protections around energy projects, making it even harder for affected communities to have a voice in approving these projects, many of which inflict environmental harm on communities of color. This petition urges Congress to pass the Environmental Justice for All Act.
RECIPE TO SHARE
Vegan Pumpkin Cheesecake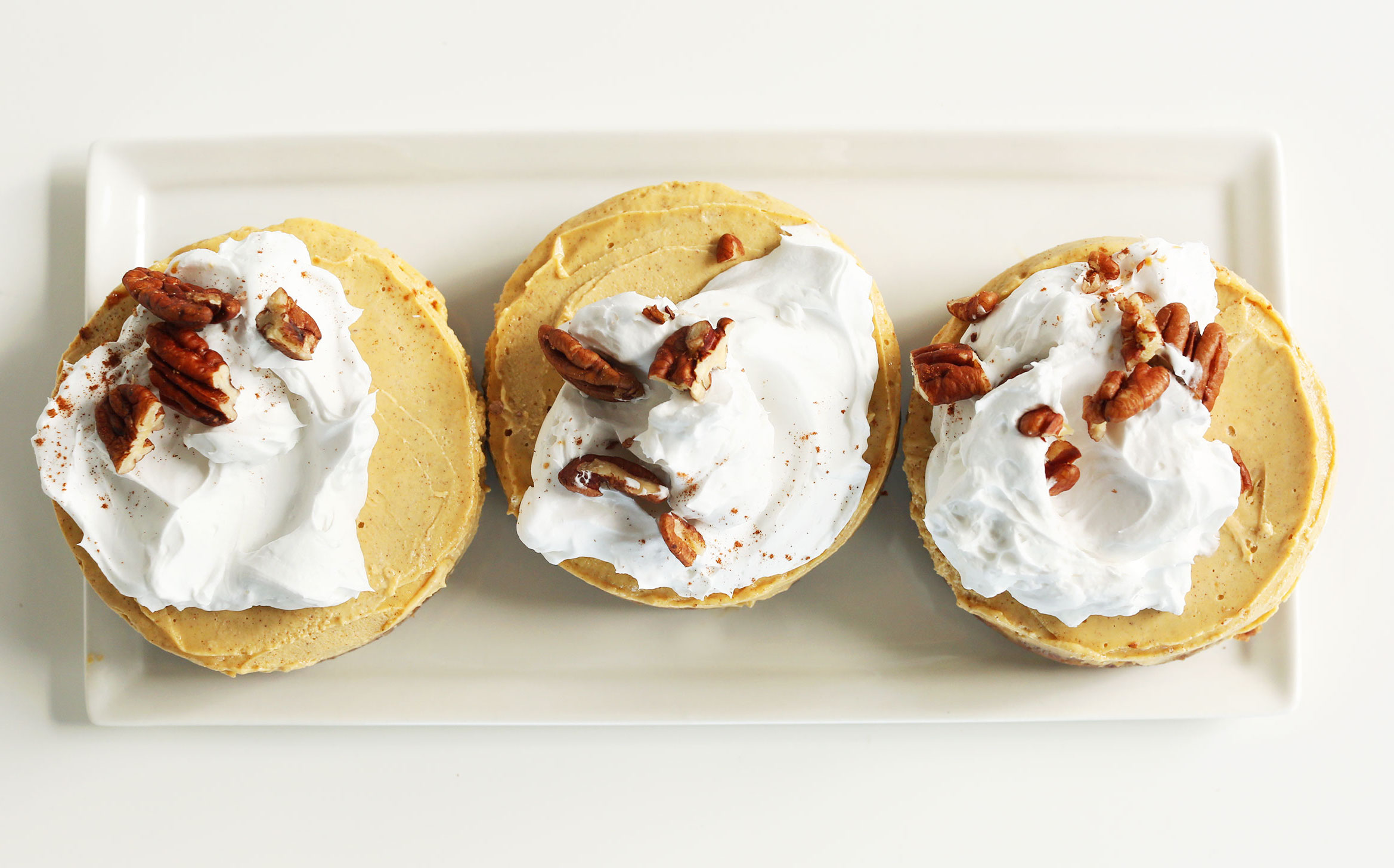 Who doesn't love cheesecake? And pumpkin? And coconut whipped cream?
Embrace the fall season with these vegan pumpkin cheesecakes. These are the perfect dessert for holiday parties and fall gatherings.
Curious to experiment? Enjoy the recipe below!

GRATITUDE
We end our newsletter with a poem this month, "In October" by Bliss Carmen
"Now come the rosy dogwoods,
The golden tulip-tree,
And the scarlet yellow maple,
To make a day for me.

The ash-trees on the ridges,
The alders in the swamp,
Put on their red and purple
To join the autumn pomp.

The woodbine hangs her crimson
Along the pasture wall,
And all the bannered sumacs
Have heard the frosty call.

Who then so dead to valor
As not to raise a cheer,
When all the woods are marching
In triumph of the year?"
We are so grateful for the beautiful fall colors during this time of year. May you find time for reflection and awe this coming month.