If you're having trouble viewing this email, you can see it online.
Dear Friends,
UU Ministry for Earth is preparing for the year ahead! In October, we are excited to announce a series of upcoming programs and save the dates, share our new annual report and program calendar, and offer opportunities for embodiment, empowerment, and engagement to pursue climate justice.

As our new board chair, Rev. Anastassia Zinke reminds us, partnership, kindness, and intentionality for transformation are at the heart of our cause. Together, we can imagine and nourish a ministry that can be the best partner for the moment and our Unitarian Universalist movement.
Unitarian Universalist Ministry for Earth is in a season of interim ministry. Rev. Dr. Leonisa Ardizzone continues in her role as part-time consulting co-director to refine our strategy and program development. As Rev. Leonisa writes, "Over the next six months, I will work closely with all Unitarian Universalist Ministry for Earth stakeholders to create a five-year strategic plan, examine and develop our programming and outreach, and oversee and support our wonderful team of staff and volunteers." In case you missed it, read Rev. Leonisa's full welcome letter here.
One exciting change- I am delighted to announce that Zoë Johnston, who is the Coordinator for UU Young Adults for Climate Justice, is expanding her portfolio to be UU Ministry for Earth's Communications Associate. Zoë is a dynamic, faithful Unitarian Universalist and committed to growing our movement and elevating stories of the work for climate justice. Read more about Zoë on the UU Ministry for Earth blog.
What does this mean? Zoë is the new editor of the UU Ministry for Earth newsletter, for the 2022-2023 congregation year. Congratulations! For the year ahead, my part-time ministry at UU Ministry for Earth is shifting to focus more directly on development. Going forward, please email newsletter submissions to Zoë Johnston <uuyacj@uumfe.org>.
For the past year, with your help, UU Ministry for Earth has used our newsletter to share worship, stories, events, petitions, education opportunities, and possibilities for action. In varied ways, all of your ministries- individual, congregational & organizational- invite us to live deeper into the fullness of our faith, uniting the 7th and 8th principles, the struggle to affirm and embody interdependence and build beloved community against profound resistance and oppressions.

Collaboration is key to meeting the moment.

In Gratitude,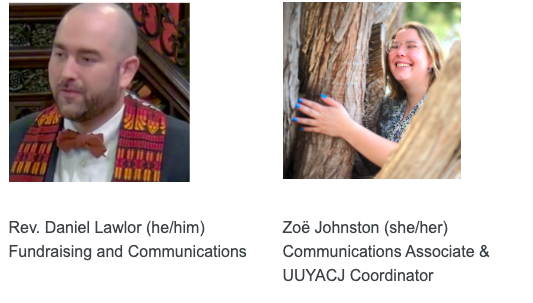 IMPORTANT PETITION
Support Indigenous Spirituality and Sacred Practice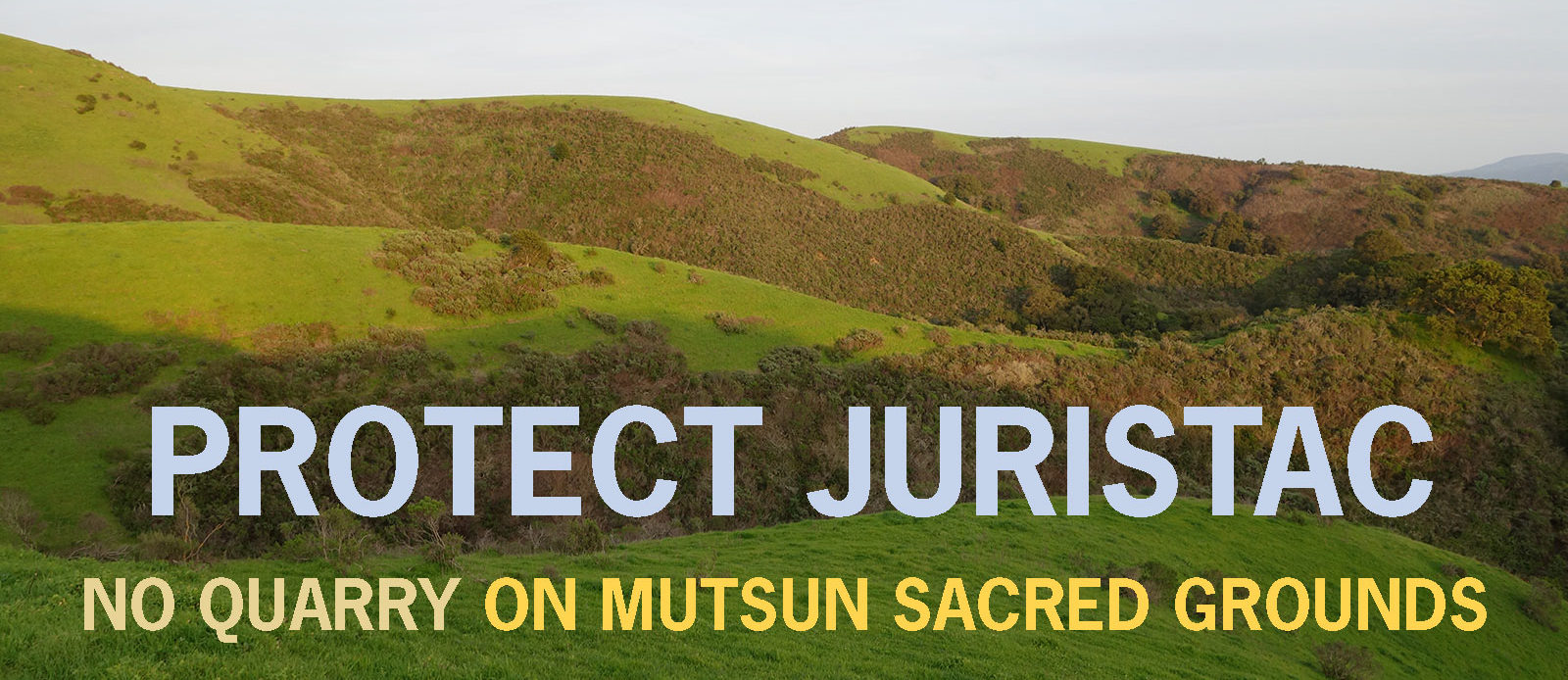 A 400-acre sand and gravel mine threatens Juristac, the most sacred grounds of the Amah Mutsun Tribal Band just south of the San Francisco Bay Area. It would also block a critical wildlife corridor, and take 86,000 gallons of water a day from a sensitive aquifer. Sign the petition to say NO to an open pit gravel mine at Juristac. You can sign wherever you are – the farther away, the better. Show Santa Clara County, California, the world is watching! This 4 minute video tells the story. Help our local UU churches support the tribe by signing the petition and following them on Instagram and Facebook. Thank you!

EMBODIMENT
UU Animal Ministry Virtual Blessing of the Animals Service

Sunday, October 9th
1 pm PT / 2 pm MT / 3 pm CT / 4 pm ET
This year's Blessing of the Animals service with UU Animal Ministry will feature guest speaker Zoe Weil. Zoe is the author of seven books including Amazon's #1 Best Seller in Philosophy and Social Aspects of Education, The World Becomes What We Teach: Educating a Generation of Solutionaries (2021/2016). She has written numerous articles on humane education and humane living and has appeared frequently on radio as well as television. Zoe writes for Psychology Today where you can read her blog Becoming a Solutionary. Zoe was inducted into the Animal Rights Hall of Fame in 2010.
United Nations Sunday Resource Packet, Climate Justice: Climate Forced Displacement

United Nations Sunday celebrates the work of the United Nations and your Unitarian Universalist Office at the United Nations (UU@UN). Each year we encourage congregations to have a service and/or event to celebrate! United Nations Day is October 24, the date the UN Charter was signed in 1945. Many congregations have their UN Sunday service near that date. The UN Sunday packet is based on the theme of the Spring Seminar of the same year. This annual intergenerational seminar calls together Unitarian Universalists across the country to explore UU responses to emergent human rights issues. This year's theme was Climate Justice: Climate Forced Displacement. We encourage you to use the materials to craft a service that is uniquely suited to your congregation.

ENGAGEMENT
Webinar Series: Climate Resilience through Disaster Response and Community Care

Climate disasters impact our communities - how can UUs be prepared? Join Side With Love's series of workshops with activities to help you identify the climate risks, understand who is most at risk, and how your community will be impacted. From there, make a plan to prepare for and respond to climate disasters in your neighborhood.
This workshop is part of a series. Sessions: All sessions are 90 minutes long and begin at 7pm ET/ 6pm CT / 5pm MT / 4pm PT
Sept 27: Assessing Climate Impacts & Making Connections
Oct 25: Mobilizing for Action
Nov 15: Community Conversation
To prepare for these workshops, we encourage you to watch "Fostering Local Climate Resilience through Disaster Response and Community Care" webinar. Invite your congregation to watch with you, then bring your team to the trainings!
Fighting Climate Change - Student Movements Globally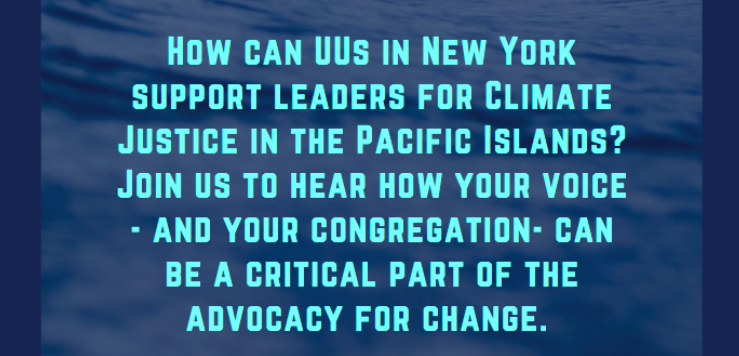 Tuesday, October 4th
4pm PT
/ 5pm MT/
6pm CT/ 7pm ET
Featuring Solomon Yeo, Pacific Island Students Fighting Climate Change, and Salote Soqo from the Unitarian Universalist Service Committee.
How can UUs in New York support leaders for Climate Justice globally? Join us to hear how your voice - and your congregation- can be a critical part of the advocacy for change. The event
will be recorded
.
Sponsored by:
NY UU Collaborates, a working group including UU Ministry for Earth, Fourth Universalist Church, and NY UUs for Justice. NY UU Collaborates is working together to organize a series of four forums on Zoom this year on the climate crisis and our UU faith life. Thank you to the New York State Convention of Universalists for their sponsorship.
GreenFaith: Faiths 4 Climate Justice Month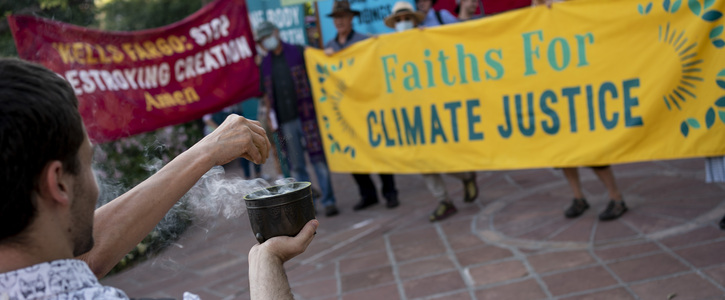 As people of faith, we believe that the Earth and all people are sacred.
We are calling for an immediate end to new fossil fuel projects, deforestation, and related financing, a massive commitment to green jobs to reduce climate pollution and end poverty for millions, and climate reparations from wealthy countries to equip vulnerable nations for a better future. At the end of October, just before world leaders gather at the G20 meetings in Indonesia and COP27 in Egypt, hundreds of the world's great spiritual leaders and thousands of people of all religious backgrounds will call for a new international agreement - a Fossil Fuel Non-Proliferation Treaty - that does what is necessary to restore balance, establish harmony, and create justice. If you have an action planned, you can register it here or find actions in your area.
Tell Congress the Time Has Come to Pass the Environmental Justice for All Act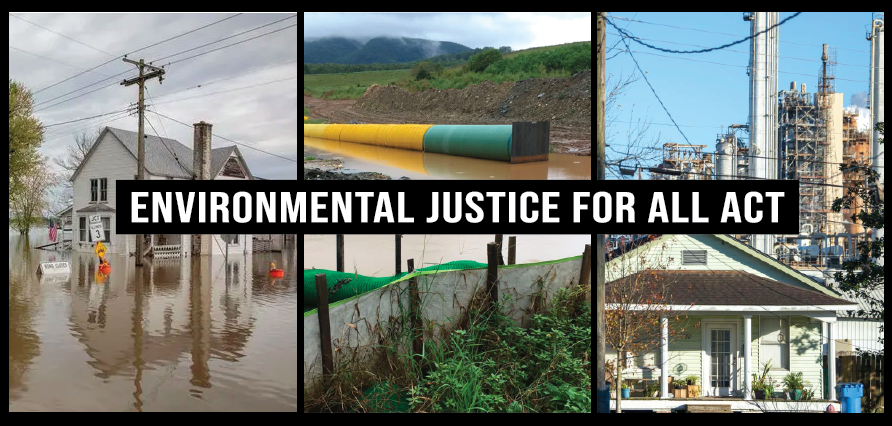 The recent passage of the Inflation Reduction Act (IRA) is an overall significant step toward greater investment in clean energy. Unfortunately, some provisions of the IRA may actually stimulate fossil fuel production and worsen pollution in areas already saturated by heavy industry. And as part of the compromise that allowed the bill to go forward, Congress may soon consider loosening some procedural protections around energy projects, making it even harder for affected communities to have a voice in approving these projects, many of which inflict environmental harm on communities of color. This petition urges Congress to pass the Environmental Justice for All Act.

EMPOWERMENT
An Interview with UU Activist Cindy Piester

Following General Assembly and the disappointing outcome of the CODE RED for Humanity Action of Immediate Witness (AIW), UUMFE summer intern Vandana Menser was compelled to reach out to Cindy Piester. Cindy was the creator of the AIW and is a trustee with UUs for a Just Economic Community. In this poignant UUMFE blog post, Vandana interviews Cindy on her history as an activist with Veterans for Peace, her focus on reducing military emissions as a response to climate change, and how she feels about the outcome of the AIW vote.
Climate on Tap: A Podcast Series from Taproot Earth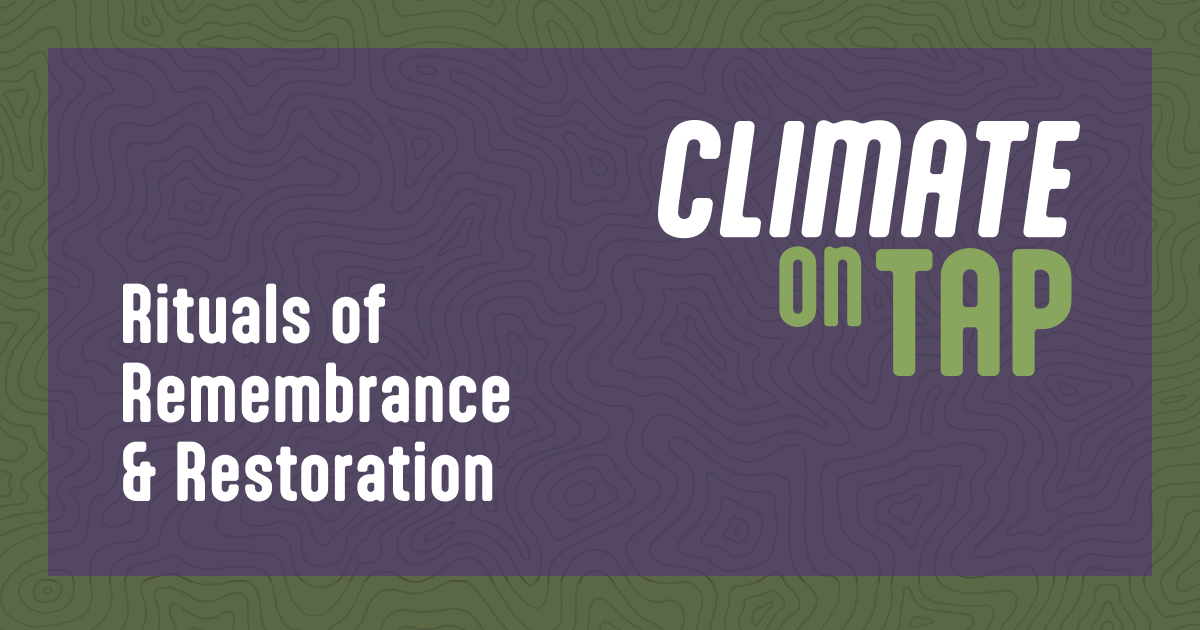 In honor of their organization's debut, Taproot Earth invites you to a riveting 7-part podcast experience featuring the voices of frontline leaders taking on – and advancing – solutions to the climate, economic, and political crises of our times. This journey is grounded in their commitment to Black liberation, Indigenous leadership, and honoring of frontline solutions. Beginning with a sacred remembrance of the impacts of Hurricanes Katrina and Ida, this event will feature conversations and reflections that show the collective power of frontline communities to rise up and meet the moment we are in, so we can all live, rest and thrive in the places that we love.
RECIPE TO SHARE
Vegan Zucchini Meatballs
Doesn't everyone have oversized zucchini in their garden this time of year? Use it to make these zucchini meatballs!
The best part, according to Sarah, is that "they require less than 10 ingredients and 20 minutes to make, and all you have to clean is a bowl and a food processor. That's the kind of recipe I like to have on repeat."
Curious to experiment? Enjoy the recipe below!

GRATITUDE
We close this newsletter with words from N. Scott Momaday:
"We humans must revere the earth, for it is our well-being. Always the earth grants us what we need. If we treat the earth with kindness, it will treat us kindly. If we give our belief to the earth, it will believe in us. There are those who believe that the earth is dead. They are deceived. The earth is alive, and it is possessed of spirit. Consider the holy tree. It can be allowed to thirst. It can be cut down. Worst of all, it can be denied our faith in it, our belief. But if we speak to it, if we pray, it will thrive."
We are grateful for this sacred community, filled with people who revere the earth and believe in the holiness of the trees. May we continue journeying together in this year ahead.