"The stories we tell will determine whether our society declines and self-destructs or whether we can heal and thrive." -Favianna Rodriguez
Happy International Women's Day!
Favianna's words elevate our choice in the time of deep conflict and uncertainty we find ourselves. The effects of the pandemic, wars, and climate crisis greet us in myriad ways daily. Our connections across the world are so apparent. In this time of heartache, we can write a story of justice, together.
Spring for Change: A Season of Sacred Activism is an invitation to embody a new story from the Spring Equinox (March 20) through Biodiversity Sunday (May 22). Please click here to read the full spectrum of programming, and be sure sure to download and share our program flier! We hope to see you at any, or all, of the upcoming events.
We look forward to deepening our connection in the future and value your feedback and input. As always, feel free to contact UUMFE directly to share your thoughts or concerns!
Rooted and ready,
Aly Tharp (she/they) and Rev. Daniel Lawlor (he/him), Co-Directors, UU Ministry for Earth
P.S. Thank you for all your tremendous support. Help us spread the word about our search for at large members and a new board chair! Can you share these roles widely, or place an announcement in your congregation's next newsletter? Together, we can help grow the capacity of UU Ministry for Earth to meet the moment!

INSPIRATION
Nourish your body and spirit!

Spring Equinox Plant-Based Dinner Church
Sunday, Mar 20 @ 5pm PT / 6 MT / 7 CT / 8 ET- on Zoom!

Nourish your body and spirit! UU Ministry for Earth is excited to partner with Rev. Aisha Ansano and Rev. Emily Conger of Nourish UU. Together, we offer a plant-based dinner church experience for all those working for justice. Join us on Zoom!

"Get Rooted, Get Ready!" Earth Day Worship Service
April 22 – 9am PT / 10 MT / 11 CT / 12 ET
& available for Congregational Use!
For Earth Day, UU Ministry for Earth is producing a robust and beautiful virtual worship service for use in full or in part by participating congregations as part of Spring for Change: A Season of Sacred Activism.
Join Rev. Mariela Perez-Simons, Rev. Dr. Leonisa Ardizzone, and Rev. Daniel Lawlor for a special Earth Day celebration. Plus, enjoy the premiere of Dana Clark's new climate justice hymn, "All of Us!" Sign up below!
ACTIVATION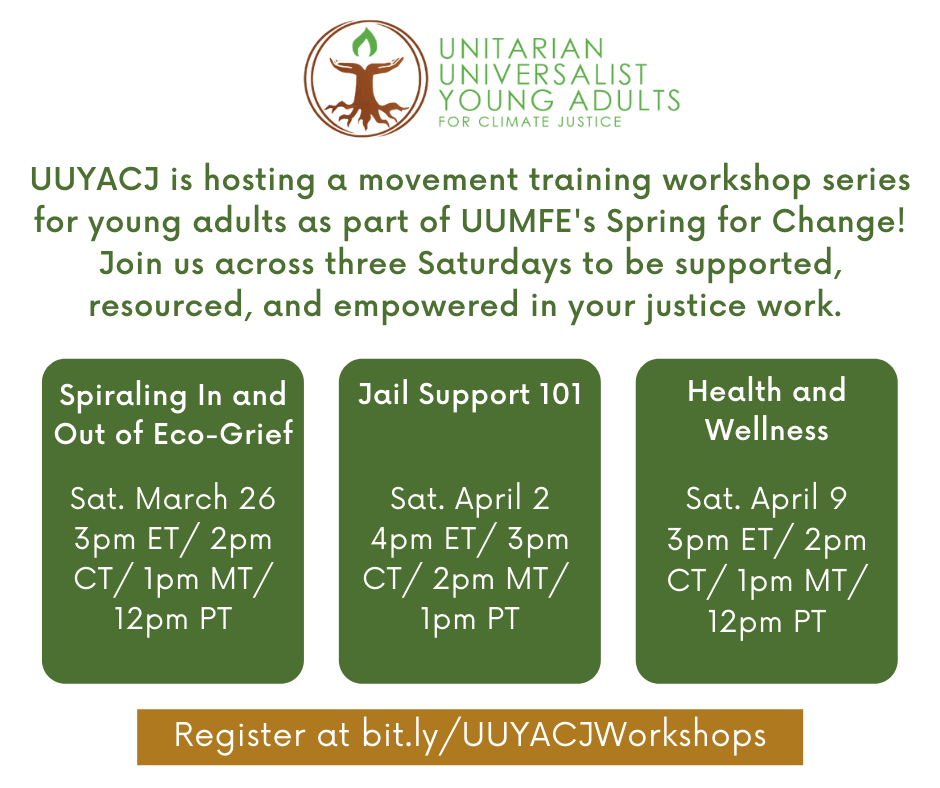 Beginning March 26, 2022 @ 3pm ET/ 2pm CT/ 1pm MT/ 12pm PT

A space for young adults (18-35) who are looking to deepen their connection to activism and build tangible skills into their justice work. The goal of these workshops is to explore how we can center care practices in our justice organizing — care for ourselves, each other, and Earth.

Join the Congregational Climate Convergence
Tuesday, March 22, 2022 @ 10am-1:30pm PT/11am-2:30pm MT/12pm-3:30pm CT/1pm-4:30pm ET
Calling all congregational lay leaders and religious professionals passionate about climate justice! Join Side With Love, Green Sanctuary 2030, and UU Ministry for Earth for a day of community nourishment, resource sharing and skill-building to support your local eco-ministries!
Help UUMFE live our mission!

Opportunity: UUMFE seeks new Board members to help us "Get Rooted and Get Ready!"

Qualifications:
Passion for climate justice with eagerness to consider justice and ministry for Earth from an anti-oppressive lens

Recognize climate change as an urgent threat demanding a moral response

Experience with environmental, faith-based, and/or justice organizing

Passionate about movement building, curriculum development, story-telling, HR, marketing, and/or finance for social change

Curiosity, flexibility, & creativity

Self-starter with good humor

Dedicate 10 hours per month to the organization

Affirm the values of Unitarian Universalism
UUMFE is geographically dispersed, Zoom-friendly, and committed to using forward-looking, dynamic governance practices. Help us become a stronger, more engaged, multicultural, multigenerational and counter-oppressive Board!
Email SearchTeam@uumfe.org an exploratory conversation.
EDUCATION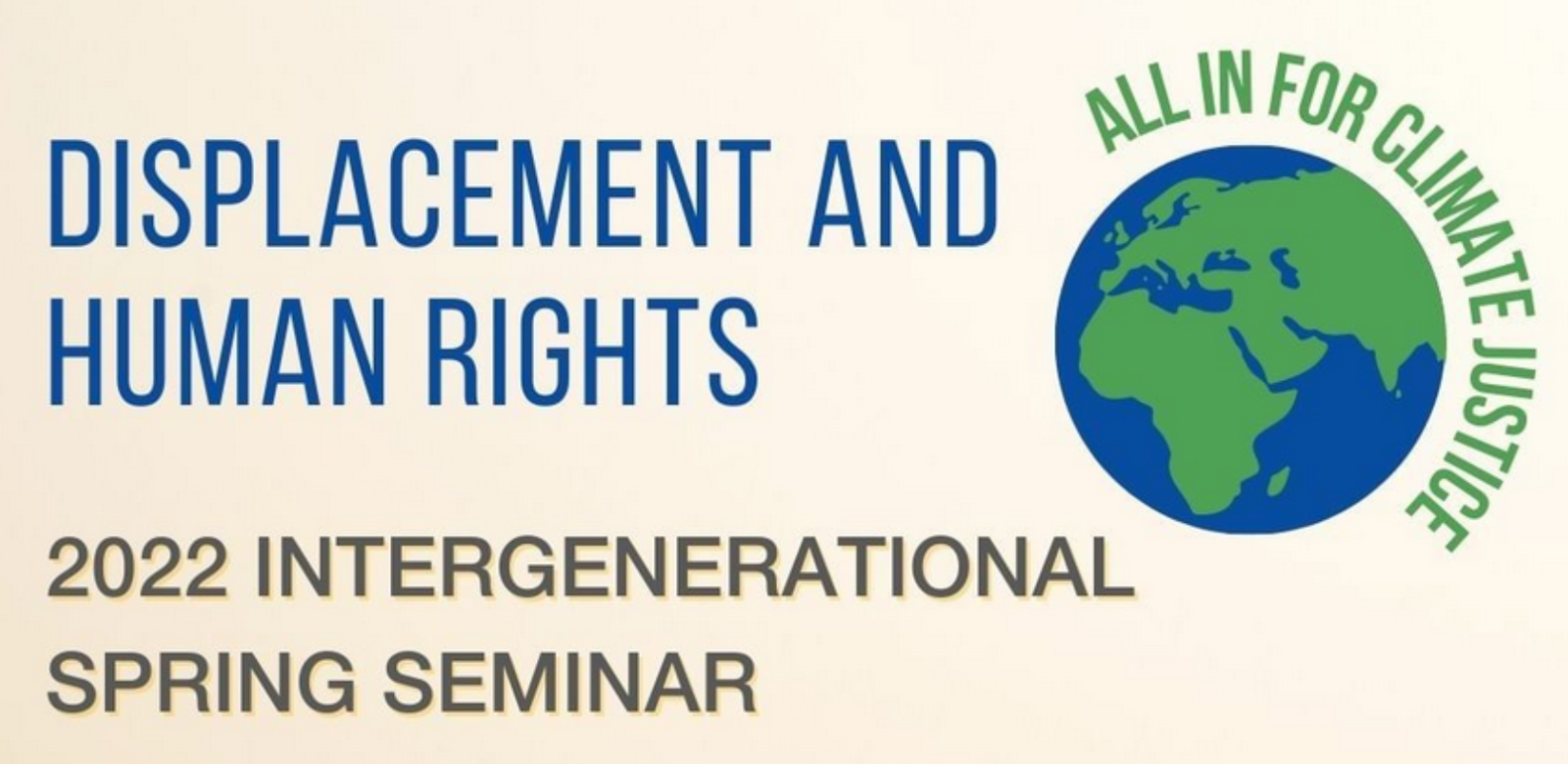 Have you registered?

April 22- May 1, 2022
Whether through an in person meet up, or at the online forums, the Intergenerational Spring Seminar is a chance to work across generations for to engage with the work of Climate Justice. Hosted by the UU Office at the United Nations (UU@UN), UU Ministry for Earth, Unitarian Universalist Service Committee (UUSC) and Side With Love, we hope to see you there to learn and connect for change!
Reading All We Can Save

The UU Young Adult for Climate Justice Caucus is reading the powerful anthology, All We Can Save.
All We Can Save is a galvanizing collection of "provocative and illuminating writings from women at the forefront of the climate movement who are harnessing truth, courage and solutions to lead humanity forward."
Whether through your library or your own copy, this text offers a collection of essays, poems and illustrations to inspire transformative action. Whatever your age, consider reading today!
CONNECTION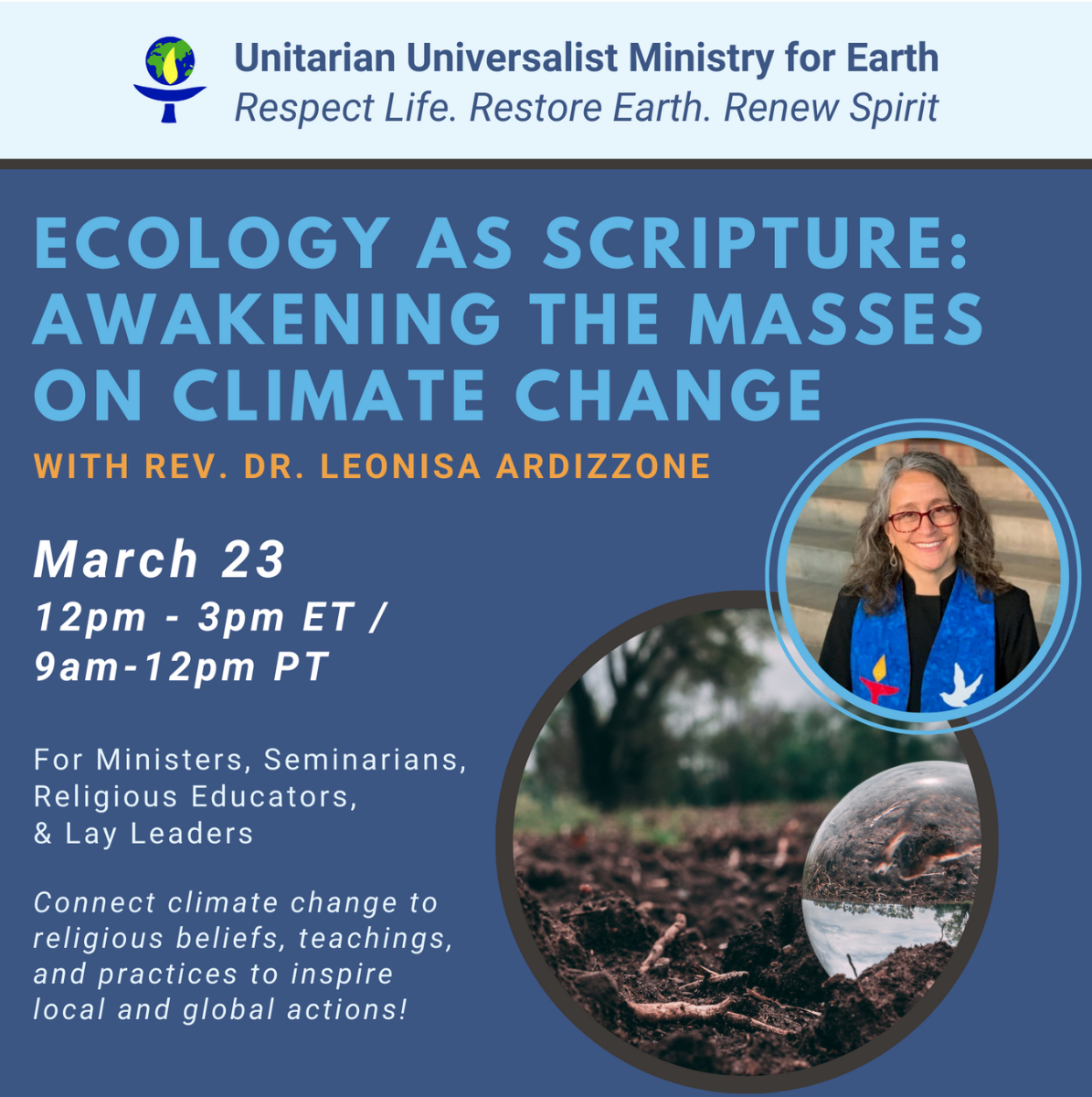 March 23 @ 9am-12pm PT/ 10am-1pm MT /11am-2pm CT /12pm-3pm ET
For Ministers, Seminarians, Religious Educators & Lay Leaders
This workshop is an exploration of climate change and how connecting that to religious beliefs, teachings, and practices can inspire local and global actions.

RECIPE TO SHARE
Colcannon!
Have you tried this traditional Irish dish, Colcannon?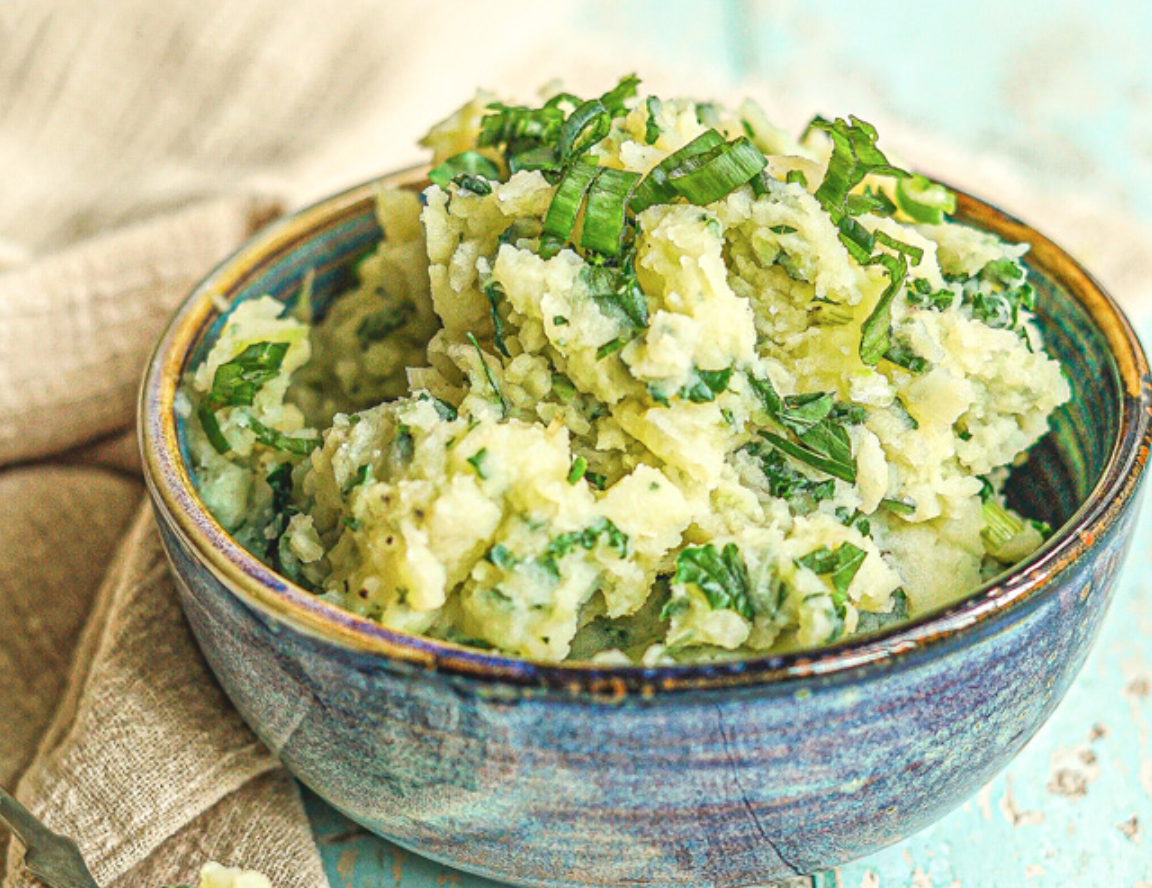 (Photo Credit: The Edgy Veg)
Our dynamic Administrator, Sabrina Louise, offers four delicious and distinct plant-based takes on the traditional Irish meal!
If you love potatoes, leeks, winter radishes, and kale- these Colcannon recipes may be calling you!
Enjoy!

GRATITUDE