Happy Tuesday!
"Feed your spirit, and get galvanized!" - Emma's Revolution
Spring is coming! "Get Rooted, and Get Ready!" is UU Ministry for Earth's theme and call to action for our 2022 Spring for Change: A Season of Sacred Activism.
Spring for Change: A Season of Sacred Activism is an invitation to embody the time from the Spring Equinox (March 20) through Biodiversity Sunday (May 22) as one of educational power, spiritual grounding and accountable action for climate justice.
From our Climate Convergence on World Water Day (March 22), to a course on Ecology as Scripture, from our Caucus forums to our Earth Day worship celebration (April 22), we are excited to journey with you in the months ahead!
Please click here to read the full spectrum of programming for Spring for Change: A Season of Sacred Activism. Be sure sure to download and share our program flier! We hope to see you at any, or all, of the upcoming events.
We look forward to deepening our connection in the future and value your feedback and input. As always, feel free to contact UUMFE directly to share your thoughts or concerns!
Rooted and ready,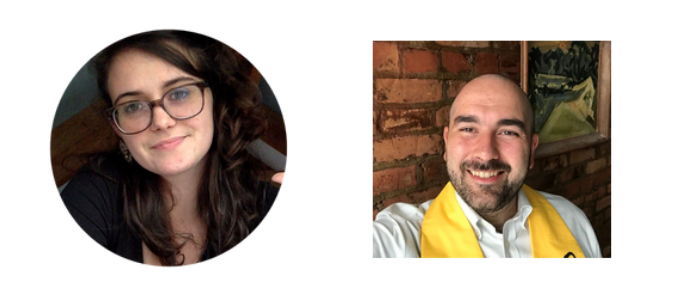 Aly Tharp (she/they) and Rev. Daniel Lawlor (he/him) Co-Directors, UU Ministry for Earth
P.S. Thank you for all your tremendous support. Help us spread the word about our Board Chair search! Can you share this blog widely, or place an announcement in your next church or organizational newsletter? Together, we can help grow the capacity of UU Ministry for Earth to meet the moment!

INSPIRATION
"Get Rooted, Get Ready!" Earth Day Worship Service
April 22 – 9am PT / 10 MT / 11 CT / 12 ET
& available for Congregational Use!
This year, UU Ministry for Earth is producing a robust and beautiful virtual worship service for use in full or in part by participating congregations this Spring, as part of Spring for Change: A Season of Sacred Activism. Resources are now available, sign up below!
Nourish your body and spirit!
Spring Equinox Dinner Church
Sunday, Mar 20 @ 5pm PT / 6 MT / 7 CT / 8 ET
Nourish your body and spirit! UU Ministry for Earth is excited to partner with Rev. Aisha Ansano and Rev. Emily Conger of Nourish UU. Together, we offer a plant-based dinner church experience for all those working for justice. Join us on Zoom!

ACTIVATION

From Build Back Fossil Free!

The Build Back Fossil Free campaign is organizing a huge letter to the President of the United States for organizations to sign on to, reiterating the Build Back Fossil Free demands for bold executive action to keep fossil fuels in the ground and protect communities from the toxic impacts of coal, oil and gas development.
Will you add your organization to this letter to the President of the United States?
From the Earth Bill Network!
Special Forum, Wednesday, February 16 Weds Feb 16 @ 3:30pm PT / 4:30pm MT / 5:30pm CT / 6:30pm ET
A growing, nationwide coalition has identified three sweeping priorities to achieve dramatic greenhouse gas reduction by 2030 and they have put them together to form The Earth Bill. Drawdown NYC invites interested participants to lean about the Earth Bill coalition, strategy, and how individuals and groups can support it.
EDUCATION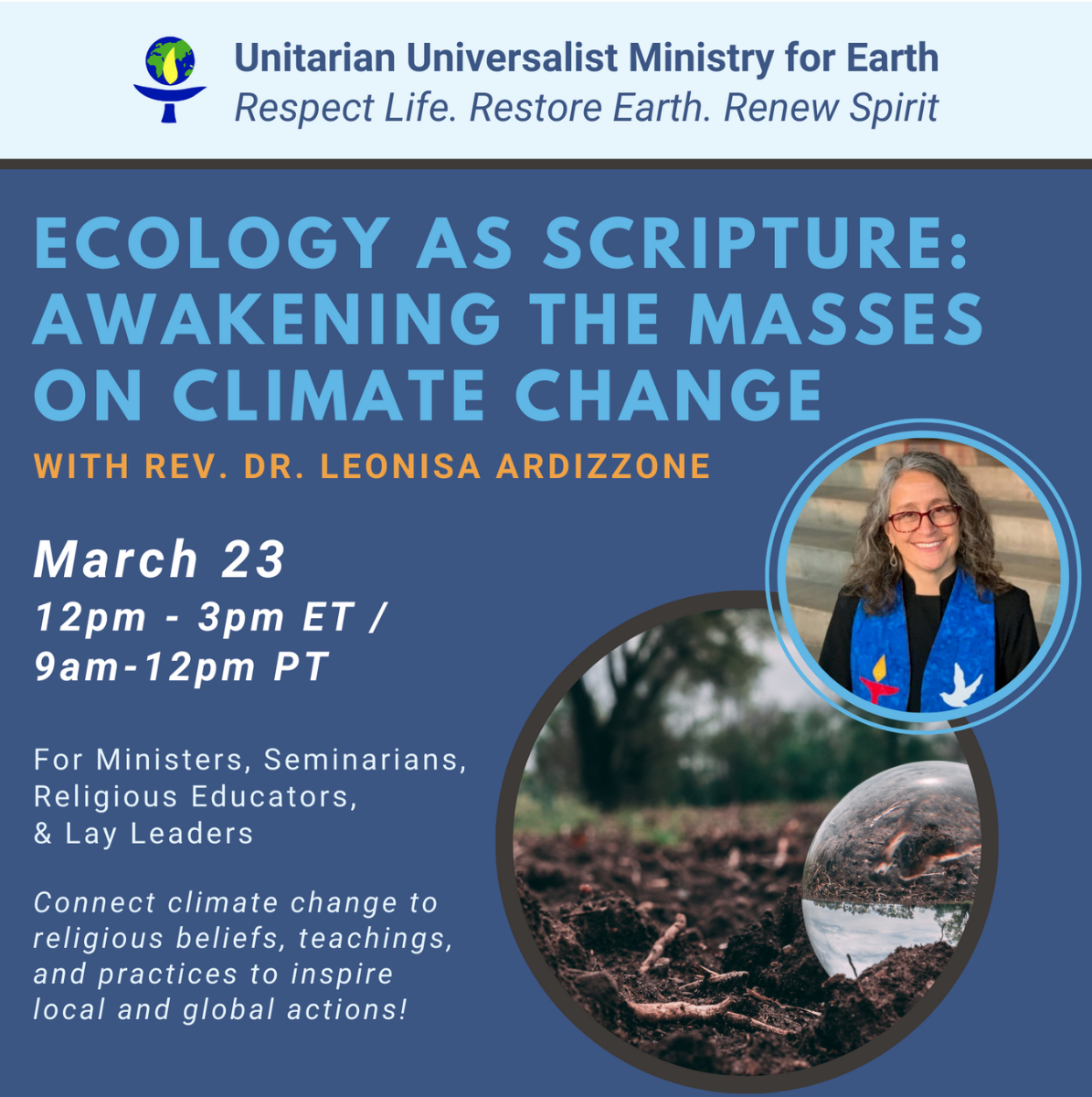 Climate Justice Workshop for Religious Leaders
March 23, 9am-Noon PT / 10am-1pm MT / 11-2 CT / 12-3 ET
For Ministers, Seminarians, Religious Educators & Lay Leaders
This workshop is an exploration of climate change and how connecting that to religious beliefs, teachings, and practices can inspire local and global actions.
Reading A Theology of Darkness

"The sacred circle of life" and "the rhythms of nature" are key spiritual sources for UU Ministry for Earth.
Recently, UU theologian Rev. Kristen Harper offered a powerful meditation in UU World inviting Unitarian Universalists to reconsider the implications of older nature metaphors in "A Theology of Darkness."
Rev. Harper writes, "...we first need a new theology of darkness—a new way to relate to the darkness, blackness, and brownness that surrounds us, and to the people whose skin is often reflected in our disempowering language... Apart from a period of waiting for the sun to return, the dark is rarely celebrated for what it brings to our lives. Relearning to appreciate the darkness takes intention and practice."
CONNECTION
Displacement and Human Rights: All In for Climate Justice

April 22- May 1, 2022

Hosted by the UU Office at the United Nations (UU@UN), UU Ministry for Earth, Unitarian Universalist Service Committee (UUSC) and Side With Love
The 2022 Intergenerational Spring Seminar will address the theme "Displacement and Human Rights: All In for Climate Justice." It will take place online April 22 – May 1, 2022, with an opportunity for congregations to host local in-person gatherings. The UU@UN is excited to be partnering with the Unitarian Universalist Ministry for Earth, UUSC, and Side With Love on this event. Registration is open now through April 3, 2022 with flexible rates.
Join the Congregational Climate Convergence!
Congregational Climate Convergence
Tuesday, March 22, 2022 10am-1:30pm PT/11am-2:30am MT/12pm-3:30pm CT/1pm-4:30pm ET
Calling all congregational lay leaders and religious professionals passionate about climate justice! Join Side With Love, Green Sanctuary 2030, and UU Ministry for Earth for a day of community nourishment, resource sharing and skill-building to support your local eco-ministries!
RECIPE TO SHARE
Vegan Macaroni and Cheese!
Enjoy "a version of this traditional dish remade with a vegan twist!"

GRATITUDE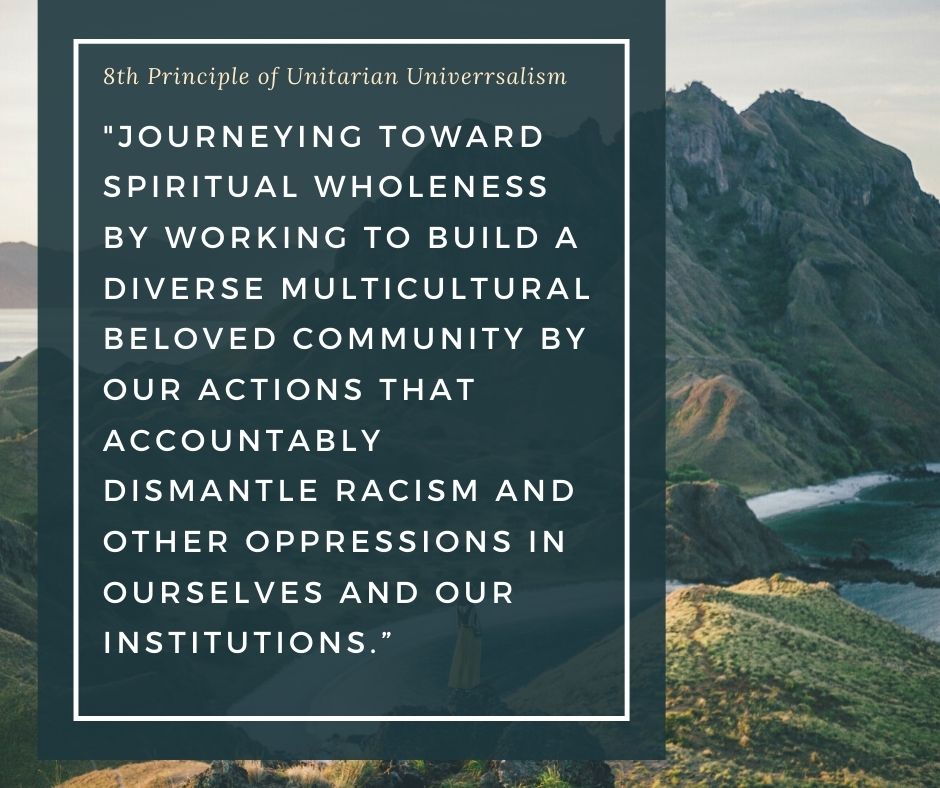 Your kindness and your commitment to the Ministry for Earth helps us cultivate community and healing. We look forward to being rooted and ready with you in the months ahead!